Every year we share the stories of local patients with the Big Climb Community to illustrate the impact of blood cancer in the Puget Sound Area. While it is challenging these days to meet someone whose life has not been impacted by cancer in some fashion, for those fortunate enough not to directly feel the impacts of a cancer diagnosis, we hope these incredible individuals give you some insight into the world of life threatening diseases. They each thank you for your commitment to The Leukemia & Lymphoma Society and your dedication to CLIMB.CONQUER.CURE.
In Honor of Andrew Palmer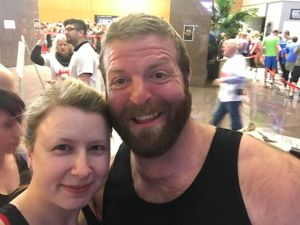 Andrew Palmer stands 6' 5" tall, has weighed in at almost 400 pounds, projects a booming voice and sports an undeniably impressive beard. He's a man who is capable of dragging washing machines and dryers, carrying boulders, and has even pulled a 727 jet simply because, well, he can. In fact, several years ago this 37-year-old professional Strongman competed on Team USA as a world champion in Siberia in front of a crowd of 10,000 people, and loved every second of it.
He also has a blood cancer.
What started as a simple abdominal pain in spring of 2016 quickly turned into barely being able to stomach food without Palmer wincing in pain. For a guy who has an abnormally high pain tolerance given his hobby of choice and sheer size, making a visit to his doctor meant something serious had to be in the works.
His doctor confirmed that Palmer had a swollen liver and spleen, and scheduled him for a blood marrow biopsy soon after. After being told to not worry and to wait patiently for a week to get back his results, Palmer picked up the phone the very next day to hear news that rocked his world.
"My doctor asked if I was driving, which I was, and told me to pull the car over," Palmer said. "I literally parked on the sidewalk of the Space Needle and was told that I was immediately being admitted to Swedish Hospital and that my doctor didn't know when I was going to come out. My bone marrow was found to be essentially 100% cancer. The test results came with a handwritten note that read, 'I cannot find functioning marrow in this individual'."
When he's not working as the director of engineering at Distillery, the world's largest liquor and spirits application, much of Palmer's life revolves around improving his physical strength and being in tune with his body. Which is why his cancer diagnosis of Acute Lymphoblastic Leukemia (ALL) came as such a shock, and can appear as such an anomaly. But in reality, it is a true testament to the often unpredictable and blindsiding nature of blood cancers.
Without prescreening options for these types of cancers, most patients have no way of knowing until symptoms appears. He admits that the juxtaposition of living as a world renowned professional Strongman who suddenly becomes a cancer patient was indeed disorienting.
"I've been hit by cars before and I'm fine, you know?" Palmer said. "I've been basically indestructible my entire life and then this happens. It was completely terrifying."
In fact, the day he received his bone marrow biopsy Palmer had been feeling great. He had literally just set his lifetime personal bench press record at his home gym earlier that morning, and then promptly found out his platelets levels were off the charts. Nurses told him if he had gotten injured around that time period, he likely would've bled out.
And thus, regular training sessions in the gym transitioned into seven months of inpatient chemotherapy. Palmer would spend 5 days in the hospital, and then the following 14 at home. Throughout his Hyper-CVAD chemo which ran through the end of December 2016, he lost all of his hair, was feverish, utterly neutropenic, and due to the development of 4 ulcers in his esophagus, he dropped almost 70 pounds in three weeks' time. Dealing with the fact that chemo was burning through everything he had was a mental trial indeed.
But despite his side effects, Palmer says he is well aware there are others who have it significantly worse than he. Throughout his treatment he was able to maintain most of his job responsibilities at Distillery, and found that his support system both through coworkers and his social circle of friends was paramount in his recovery.
Tears well up in his eyes as he speaks of how on the day he was admitted to Swedish, his friends showed up with a full-blown dinner party in the waiting room to make sure he wasn't alone. Not to mention bringing a banner to succinctly sum up their feelings about the situation: "F**k Cancer", it read. And thus, their Big Climb team name was born.
In fact, the 31st annual Big Climb in 2016 was Palmer's first direct involvement with LLS. He first heard about the Climb after seeing a postcard sitting in his oncologist's office, and decided that despite the fact he was wildly anemic he might as well give it a go.
He claims that he can out-sprint pretty much anyone, but endurance isn't his game. So he was undoubtablly worried that with his weakened state during treatment, he wouldn't make it up all 69 floors of stairs. But he did, and raised almost $3,000 in fundraising. Palmer plans to keep participating in Big Climb for as long as he's able, and hopes to make it a longstanding tradition with his friends.
"It's really infectious having thousands of people there," Palmer said. "When you have something that really sucks in your life it just feels really good to have so many people rallying around it."
Having a support system within your own social circle and within the community as a whole is incredibly important, as Palmer knows. He encourages those going through similar experiences to listen to their own bodies, follow their gut, do their research (but not too much research), and make sure to lean in to their support systems.
Currently considered in complete molecular remission, Palmer is confident that he made the right decisions in deciding his course of treatment with his doctors. However he's a realist who knows that he is not 'cured', and therefore is a massive advocate of supporting organizations like LLS that produce tangible change in the world of cancer.
"LLS funds the creation of new medicines like Dasatinib [also known as Sprycel]" Palmer said. "I wouldn't be here without it."
He has become particularly passionate about funding of new drugs and therapies, because he knows all too well the inherent risks associated with certain types of treatment like a stem cell transplant – which he denied.
"I don't gamble, but I definitely took a gamble on my quality of life," Palmer said.
But within 40 days of treatment, results showed he has no trace of leukemia cells left.
He currently goes in monthly for check-ups, and takes cortical steroids amongst several hundred other pills a month. Every Tuesday he takes 21 pills of Methotrexate, and otherwise is on about 10 pills a day. Palmer laughs about the fact that every nurse he's ever met has told him that he takes the largest dose of chemotherapy they've ever seen, which honestly, doesn't surprise him.
"I'm very optimistic about new studies coming out that are leaning towards me making the right decision [about treatment]," Palmer said. "In all honesty, at worst I got 6 extra months of my life back and I feel pretty solid about that."
In Honor of Joe Taylor
Told from the perspective of Joe Taylor's Mother, Angela Taylor
Joe became ill shortly after his 5th birthday. For 2-3 weeks prior to his diagnosis, he wasn't acting like himself. Whining all the time, very clingy to me, and complained of stomach pain. He cried every day that he went to preschool. He had never acted like that. Everyone was concerned about him and said that he was sad. The whining got worse. We noticed his stomach was unusually bloated. His cousin Adrienne had noticed his lips were frequently turning blue. I had thought I was just seeing things.
We decided to take him to the pediatrician and they treated him for constipation. Later that night he had a fever, I was again concerned because his symptoms had gone on just too long. I decided to call the night nurse at Evergreen Hospital. She suggested I go back to the pediatrician and ask them to run more tests. Upon arrival the next day the doctor that saw us was a little more concerned and suggested we take a blood test. I waited for my husband to get home from a trip as I knew the blood draw was going to be a fight. We decided to take Joe to Toys R Us for a Star Wars toy after the experience since he was so traumatized. No sooner had we walked in the door, the doctor from Pediatric Associates called - Dr. Vincent. He said he didn't have good news, Joe's blood work was showing signs of a possible blood cancer, and they wanted us to go to Children's Emergency immediately.
I was in shock and didn't want to repeat the news to my husband so I asked the doctor to tell him again over the phone. I quickly called my parents and they arrived within minutes to watch over our 7-year-old son, Paul. My mom, husband Kevin, Joe and I went off to Children's ER. They took us in quite immediately. The blood draw went much smoother but Joe almost went into convulsions when he found out another blood draw was coming. Not soon after the results came back. They wanted to admit us for more testing.
Joe did in fact have a blood cancer, most likely a leukemia, but they needed to do a Bone Marrow aspiration procedure the next day in order to know for sure. Joe was getting sicker and sicker by the moment. They were confident that his platelets were low, the blue lips were a sign of this, as well as his stomach being bloated was a sign of a swollen spleen working over time trying to heal the body and rid it of toxins. The first night in the hospital was quite eye-opening. Joe was in pain as the leukemia cells were beginning to press on his bones within his marrow. They gave him pain medication and had to poke him again to see if the platelet transfusion bolstered his blood work. Everyone in the family was really upset and worried.
The word cancer. No one ever wants to hear that. The bone aspiration the next day was quick and they made sure it wasn't painful. They continued to have to poke Joe and little by little began to tell us what was next. Books, binders, paperwork, it was all a nightmare. The first good news came the next day. Joe had a kind of leukemia, ALL. A very treatable form. Although many in the room were hoping for no leukemia, I was relieved that we were given a curable diagnosis.
The real work began now. A course of treatment was given to us and we followed its path to healing for 3 ½ years. Joe was incredibly tough throughout the entire experience. Over time, he became braver with his pokes. He tolerated the chemo well, fighting through the side effects and insisting he was "fine". He was a legend in the clinic. After his monthly methotrexate spinal injections, he awoke and insisted on running the hallways trying to make sure his body was in working order. Tough. Amazing.
We are eternally grateful for the people before us that have supported studies and research to help find cures for childhood cancers. Without the people before us, much like our parent's memories of their youth, adults and youth facing diseases like leukemia faced a certain death. The cure rates for all types of blood cancers are trending up! Not only do these cures help the children, but also the adults inflicted with these diseases. Shortly after Joe's cure, my nearest and dearest friend Ann Molitor was diagnosed with ALL. She made it through treatment with flying colors and continues to enjoy a healthy life.
Thank you to the Washington/Alaska Chapter of the Leukemia & Lymphoma Society and all of their supporters!
Why Do You Climb?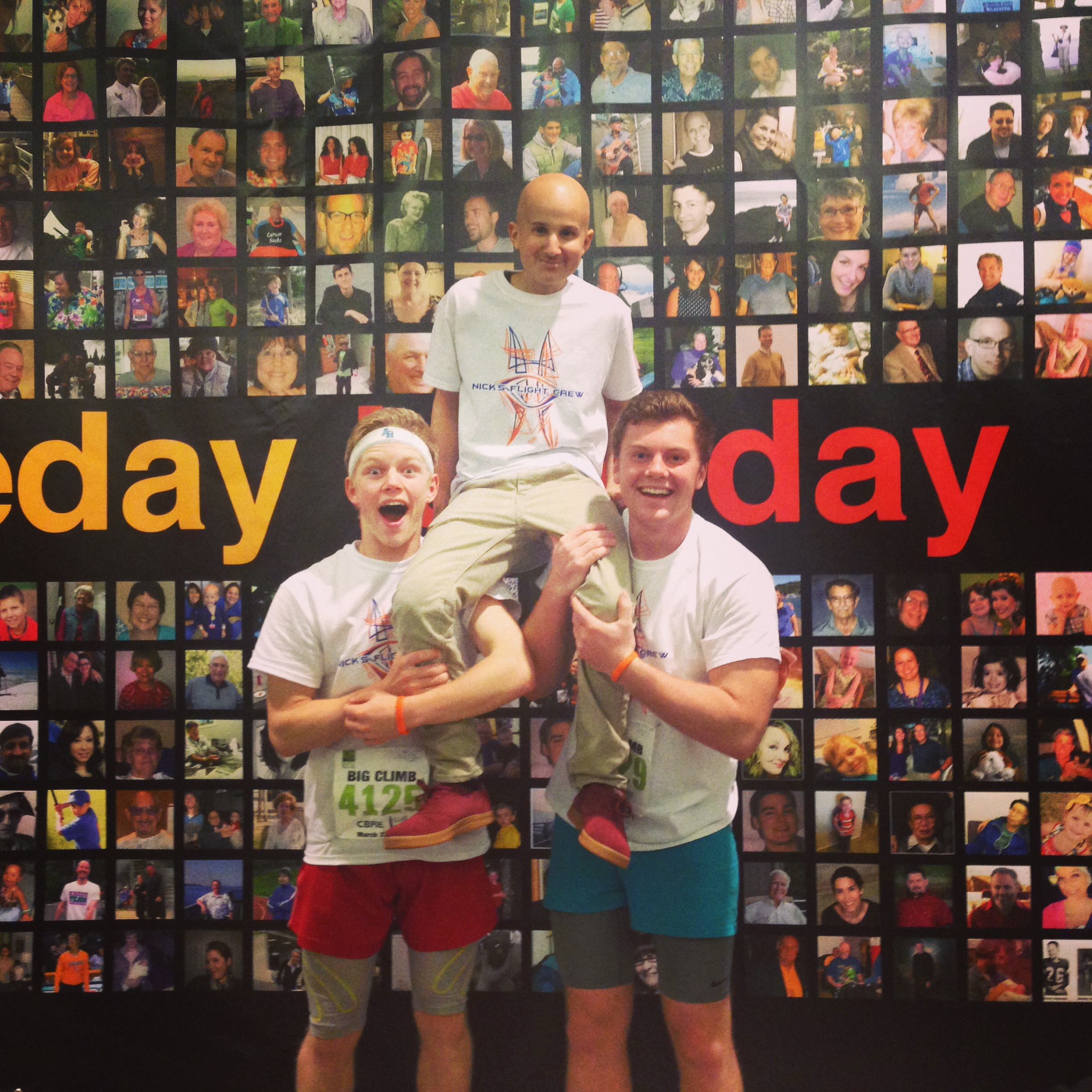 Share your reason with us!
Post your photo on our Facebook Page here.
We Proudly Fund Research Locally at the Following Institutions