Whitney's Big Climb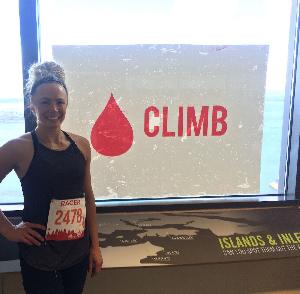 It's almost time for stairs!
Let's talk about stairs. I have a deep complicated love for stairs. They are painful, but they get you somewhere. 
The good thing about life (and this climb) is that it's not merely a series of endless steps; occasionally you get (water) breaks, and often times you have breakthroughs (turn corners). There are also times when you are so tired and it is too painful, you feel that you are unable to go on. But if you are open to it, this is when the inspiration comes to climb faster, and work harder, to keep reaching. 
I sit here trying to figure out how to tie my fancy stair metaphor to those who have been affected by Leukemia and Lymphoma. And while I do believe that during their time of diagnosis they experience pain and growth in extremes that I may never understand, but it isn't and doesn't feel like a fancy metaphor. Life isn't always easy for any of us, but all I know is wherever we are, we can keep climbing. 
Again my race, and your donations, are dedicated to Chris and Sandy whom are both in remission. Thank you for supporting this cause that has helped these two woman on their 'climb' with Leukemia and Lymphoma. Please click here to donate to my big climb on March 24th.
Keep climbing,
Whitney 

___________

What is the Big Climb?
The Big Climb is a stairclimb up the Columbia Center - the tallest skyscraper in downtown Seattle. There are 69 floors of stairs, 1311 steps, and 788 feet of vertical elevation. Although it will be challenging, it pales in comparison to what blood cancer patients go through. All proceeds benefit The Leukemia & Lymphoma Society. The video at the bottom of my page captures the true spirit of the Big Climb.
Who is The Leukemia & Lymphoma Society?
The Leukemia & Lymphoma Society (LLS) is the world's largest voluntary health organization dedicated to funding blood cancer research, education and patient services. The mission of LLS is to cure leukemia, lymphoma, Hodgkin's disease and myeloma, and improve the quality of life of patients and their families.
Every day, more than 347 LLS sponsored researchers come closer to the goal of finding a cure for leukemia and related blood cancers. Locally, LLS funds 10 researchers at the Fred Hutchinson Cancer Research Center and University of Washington Medical Center. Your support and commitment to the mission of LLS enables us to continue this important work of saving lives and aids us in our ability to reach patients in our community.
Thank you for your time and I hope that you will consider donating to this cause!
View More
Achievements

VIP Fundraiser
Participant has reached $2,500 in fundraising earning VIP status!

I donated!
Made a personal donation to the event
Fundraising Honor Roll
Fidelity Charitable - The O'Brien Famiy Giving Fund
$100
Dave and Teresa Hillis
$100
Sandy & Stephen Johnsen
$52
If you think this page contains objectionable content, please Click Here