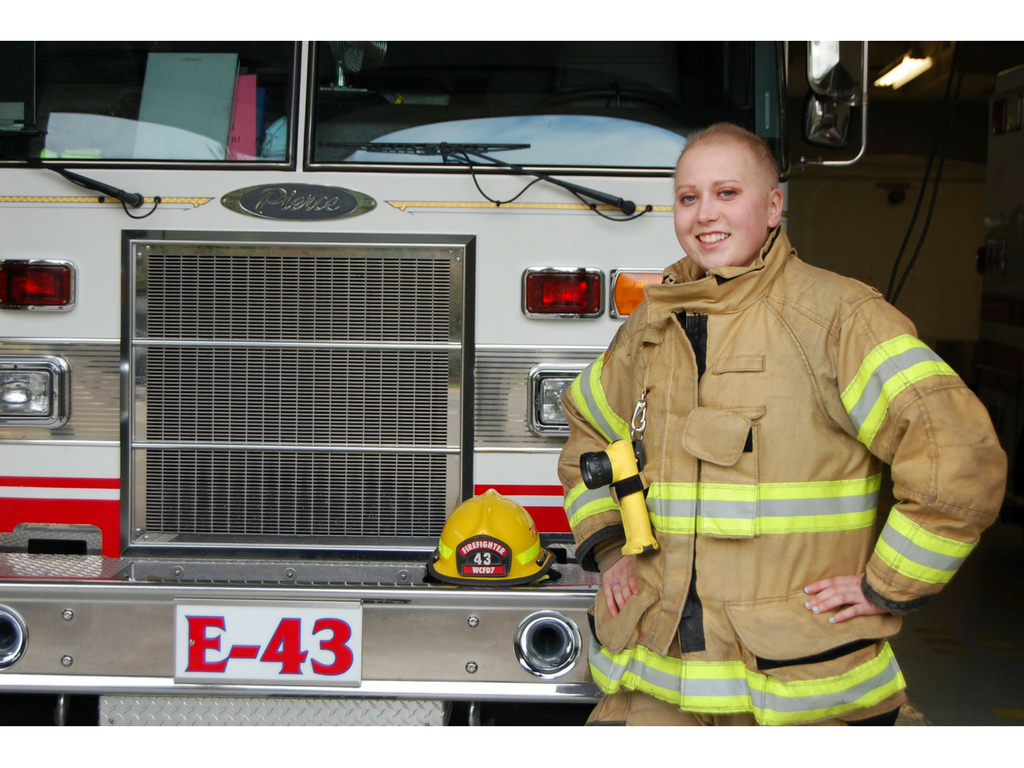 Tiffany Moyes, Whatcom County Fire District #7
Tiffany Moyes is a hands-on kind of girl. She's never been satisfied with the idea of sitting behind a desk for eight hours a day, typing her life away in the corporate world. Instead, she chose to follow in her father's, grandfather's, and great-grandfather's footsteps, and opted to make a career out of fighting fires instead.
It's obvious that her love for this profession and everything that comes with it has become a crucial part of who she is. When she was 16, she joined her local fire cadet program, and an instantaneous passion was born.
As a female in the fire service, she says that it has been hard work without a doubt. She's had to prove herself capable and earn the trust of others, but now that she has it, she's just one of the guys.
"I've always wanted a big brother growing up," Tiffany said, "And now I have too many to count."
This feeling of acceptance and family she's discovered at Whatcom Fire is mutual. Long time firefighter David Forbes, Tiffany's C-Shift Lieutenant, says that despite the fact Tiffany was born 10 days after he was hired on at the fire station, she's as tough as any man he's worked with.
"I can't begin to tell you how proud of her we are," David said.
Not only is she now a resident firefighter with Whatcom County Fire, but she is also about to earn her AA from Whatcom Community College in the Spring. It's hard to imagine that her busy lifestyle could accommodate much else, but on May 11, 2016, Tiffany was diagnosed with stage 4 Hodgkin's Lymphoma at the age of 19. It was Tiffany's mother who first broke the news.
Earlier that Fall, Tiffany had finally made the move out of her parent's house into living full time at the fire station. It was there that she experienced a newfound sense of community, adulthood, and freedom, all of which felt like the universe was suddenly about to revoke. While she didn't have to entirely move out of the firehouse she had come to love so dearly, Tiffany did have to spend a significant amount of time receiving and recovering from treatments away from the station.
"I didn't cry when I got the cancer diagnosis, but I did cry when I had to go back home," she said.
Tiffany soon began chemotherapy, which was administered through a port placed in her chest. Every other week she sat through sessions lasting about 4-5 hours each, always wishing she could instead be back doing what she loved. Admittedly, it was rough suddenly having restrictions on what she was able to do. Time with extended family and friends became limited, as everything was dependent upon her treatment schedule and daily blood cell count.
But after 6 months of body scans, blood draws, chemicals pumping straight into her heart, and shaving her head rather than watch clumps of hair fall out over time, Tiffany received her final chemo treatment this past November.
Throughout this experience, Tiffany remains a humble person. She makes a point to emphasize how those in her life profoundly and positively affected her, rather than adopting a woe-is-me attitude. She speaks enthusiastically of the incredible outpouring of kindness from friends, family, and even people who she hadn't spoken to in years. Whether it was a homemade meal brought to her house after another round of chemo or a random text asking how she was doing that day, the way people stepped up and put themselves out there to show support did not go unappreciated.
But what stuck out mos
t of all was how her fellow Whatcom firefighters never once changed the way they treated her.
"In their eyes I was just a person rather than someone with cancer," Tiffany said. "That was my biggest thing during treatment, that I was still Tiffany you know? I'm still me and I don't want to be identified by my cancer."
Gareth Moore, another member of Whatcom Fire, finds her undamaged spirit absolutely inspirational. During a shift when they both got called to put out a barn fire, and as Gareth watched Tiffany work relentlessly to do her part, it became clear to him that she is an unstoppable individual. As they worked through the night it dawned on him that every time he asked her how she was doing and she told him, "I'm ok," she truly meant it. She wasn't going to let her circumstances define her, and was never going to give up.
"She had such conviction and such drive that I didn't doubt for a second that she would be ok," Gareth said.
Her diagnosis has reinforced the notion that the little things in life are meant to be cherished. She fondly details how at the firehouse there are three separate shifts that rotate out every month. What she loves the most about her permanent residency there is how she gets to spend time with everyone across these shifts and get to know their little quirks. From the guys who constantly complain about how there's nothing to watch on TV late at night, to those who religiously watch Ghost Hunters (which terrifies her) during the last shift, it's these little details she says she will now always remember to savor and is sure some day she will miss.
"When you're slowly losing your identity to cancer it's those little things that are what you're going to hold onto the tightest to try and keep some of who you are," she said.
Tiffany's positive spirit is infectious, her drive for both work and life is admirable, and in layman's terms, she's simply a rockstar. She doesn't let this diagnosis define who she is, but rather, uses it as an opportunity to gain new perspective on what it means to really live.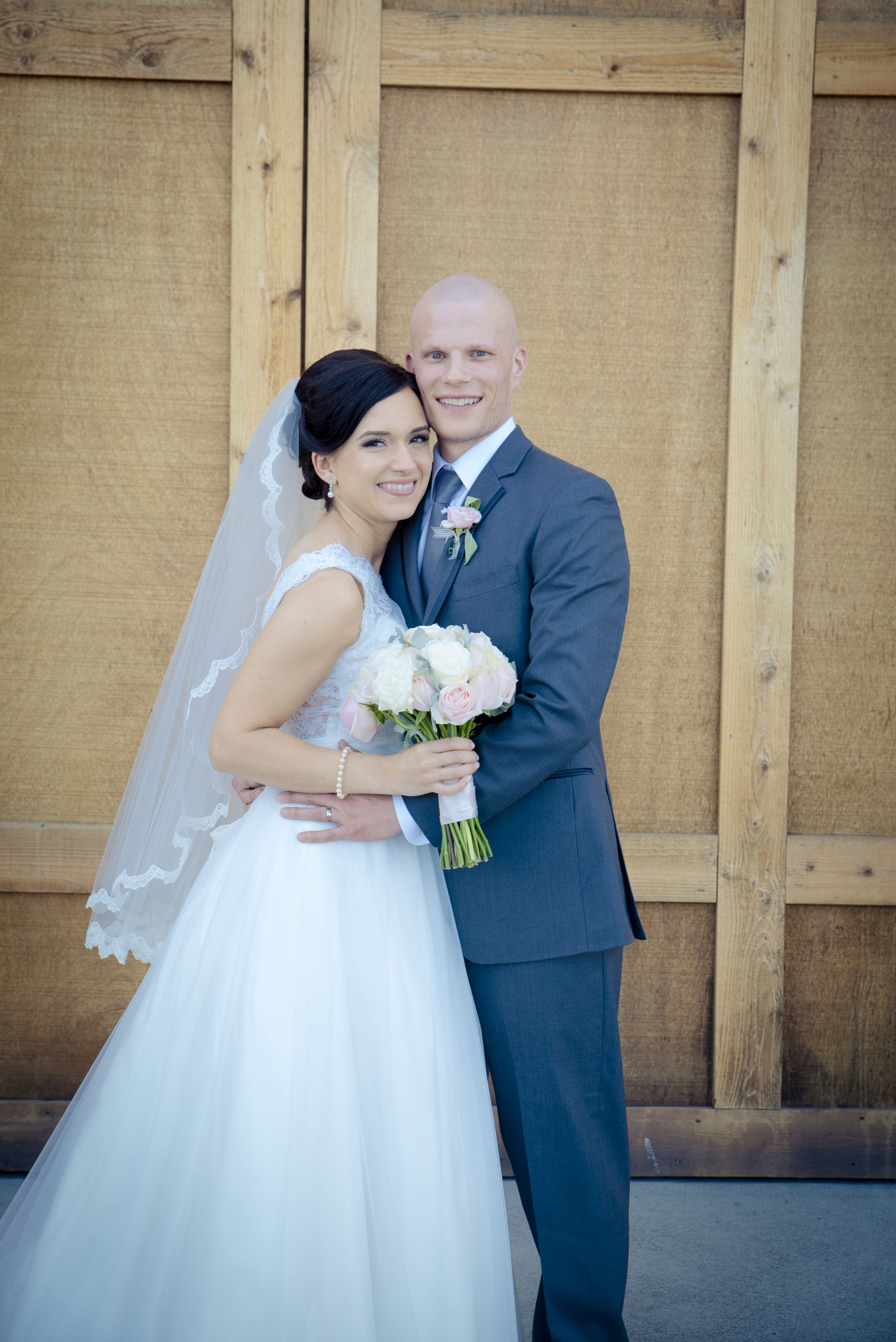 Ian Condon, Seattle Fire Department
As told by Ian, a former 2017 Event Honoree
I've been in the fire service for 8+ years.  I was with the Tumwater Fire Department for 4 years and was involved in the growth of our Wellness & Fitness Program, and have recently transitioned to Seattle Fire Department.  In January of 2015 I was diagnosed with Stage II Hodgkin's Lymphoma.  Nothing can really prepare you for experiencing cancer, chemotherapy & being told you can't do the job you love for an extended period of time.  I spent 5 months going through treatment, lost 30lbs, all my hair and was unable to participate in the 2015 Scott Fire Fighter Stair Climb.  I was grateful that I was able to still participate through efforts to raise donations for the Leukemia and Lymphoma Society while having the energy to attend the event a few hours to cheer on many of you who took on the challenge to climb the stairs.  It brought new meaning to me knowing I was battling a specific disease that this foundation supports.  It was a humbling time in my life that also opened my eyes to the sad fact that our profession yields higher than average numbers of those who get diagnosed with cancer.  My outlook remained positive throughout my treatments and I was able to marry the love of my life in May 2015 between infusion rounds 6 and 7.  In June 2015, I was cancer free & ready to come back to my job with a deeper passion to promote Wellness & Fitness in our profession.
 You could say I'm like many of you.  I've spent much of my life extremely active and physically fit while also constantly seeking more education on nutrition.  I've grown up in a transitional time in the fire service where the emphasis on safe practices for minimizing exposures has become more and more a focal point much due to the fact too many of our brothers and sisters are getting sick.  Please join me in setting your own personal fund raising goals and those of your teams to make a difference and continue the advancements in fighting blood cancers.  I was fortunate enough to have a great support network around me and benefits that absorbed the financial burden that many face.  Let's take the initiative to help the LLS be a supportive beacon of hope for those who are less fortunate. 
Kevin Wise, Stanislaus Consolidated Fire Protection District
In the world of cancer diagnoses, it has become the norm to expect the unexpected. Kevin Wise, captain of the Stanislaus Consolidated Fire Protection District team, is all too familiar with this concept.
"In 2011, I was young, I was tough, I was in really, really good shape," Kevin said. "I thought I was invincible, and then I quickly found out I was not."
During a swift water training session, Kevin injured his shoulder, chest and back. Despite his overall strong health, after a few months his chest still would not heal. What he thought would be a minor visit to the doctor turned into a conversation that would change his life. Kevin was 39 years old that day when he was diagnosed with Multiple Myeloma. Over the next five years his life shifted into a consistent pattern of blood transfusions (too many to count), endless pills, chemotherapy, and transplants.
For him, being diagnosed with cancer was practically unbelievable. But despite this unexpected setback, Kevin didn't let his new physical vulnerability majorly disrupt his normal life. In fact, he hardly missed work - a testament to his tenacious, and self-described stubborn spirit.
His longtime, childhood friend, Darren Layne, has witnessed this firsthand many times. To put it bluntly, "Kevin is not the type of person to just lay down in bed and die," Darren said.
Kevin's initial round of chemo lasted about a year until he became eligible to receive a bone marrow transplant. This procedure was unique, in that he actually became his own donor. Doctors administered an extremely high dosage of chemo, then harvested newly regenerated "clean" stem cells that were then fed back into his body. Over the course of three months, multiple harvests were needed, until Kevin made it to as close to remission as possible. He compares the current status of his cancer to a chronic disease such as diabetes - manageable, laying low, but not necessarily cured.
After enduring these procedures, Kevin was able to return to work at the station three months earlier than anticipated. But as is the unfair nature of life, not all good things can last. It was just a few years later when Kevin fell ill again for an extended period of time. After returning to the doctor for more tests, it was revealed he has a second type of blood cancer raging through his veins - leukemia. He was admitted to the emergency room that night, was immediately put back on chemo, and spent the next 47 days hospitalized.
Treatment this time around was different. It was determined that Kevin needed another bone marrow transplant, but it had to come from a perfectly matched donor other than himself. Often times it can take up to a year to find an acceptable donor, making the odds according to Kevin, "astronomically difficult."
But thanks to the Be a Match program which finds donors for patients in need, Kevin's luck had not yet run out. Kevin and his firefighter colleagues ended up running two bone marrow drives through this organization, and while he did not find his own donor through these events, their efforts successfully signed up over 200 people sign for the bone marrow registry. He's proud to say that even a few of the firefighters from his station were placed as matches for other blood cancer patients. He's content knowing his own disease has in turn helped pay it forward for others, and he couldn't ask for a better outcome.
Luckily, Kevin was indeed able to find a match for his own marrow, and the transplant was performed in January 2016 at Stanford. Post transplant, and in true Kevin-fashion, he returned to work after only six months off.
While he was able to work throughout most of his treatments, it is undeniable that there were difficulties. For Kevin, some days his side effects were worse than others and the fear of his body rejecting a transplant is sometimes strongly at the forefront of his mind.
"I credit being able to get through this to my support system and the attitude I kept," Kevin said. "I'm extremely lucky in that I have my family, a supportive wife, friends, and my fire family as well who have all just been unbelievably incredible."
As a father of two, family is exceptionally important. At first Kevin was worried he wouldn't be able to see his daughter graduate high school, or see his younger son even make it into high school at all. But when cancer happens, life has a tendency to simplify. Eventually these worries turned into simply hoping he'd be able to be with them for Christmas that year. As his perspective on the timeline of life shifted, it was the simple things that began to stand out the most. After not being able to eat out for six months, suddenly something as normal as sitting in a restaurant for a single meal became a newfound luxury.
This mindset carried over into his work as well. As a firefighter, he says he discovered a deeper empathy towards the patients he works with on a regular basis. He became a firefighter simply because he genuinely wants to do good in the world and make sure he's an active participant in helping those who need it most.
"I've always cared, but now it's on a different level of appreciation," Kevin said. "You just can't put a value on the feeling of helping others, and there isn't any other feeling like it. Being able to help people on their darkest days makes mine a little better."
His giving spirit does not go unnoticed. In fact, for the 2016 Scott Firefighter Stairclimb, Darren who is on the Boise Firefighters Local 149 team, wanted Kevin to be his honoree. Just a week before the event, Darren blew out his ACL and wasn't able to participate. So rather than climbing in Kevin's honor in 2016, it was decided they would instead climb together for Kevin's first Stairclimb in 2017.
Of course when you're a two-time cancer patient, climbing 69 flights of stairs in 50+ pounds of gear can be a slight health concern. Especially when Kevin was already scheduled to have a series of procedures to "bleed him out" in order to balance his iron levels that had become saturated from transfusions. So Kevin called his doctor and with fingers crossed, explained the idea. Turns out, his doctor was fully on board and readily proceeded to rearrange his entire schedule of procedures so they could start a week after this year's Stairclimb. In fact, his doctor even told him, "You'll be like Lance Armstrong going up that building."
Darren shares this sentiment, saying "I want him to destroy me in the Stairclimb, and have no doubt that he will."
Aside from describing Kevin as being a physical powerhouse, Darren emphasizes that over the course of two cancer diagnoses, he never heard Kevin complain a single time. He is a true leader, paving the way by example, not intimidation, and always gives 110% in whatever he puts his mind to. Whether it was racing in motocross competitions as a teenager, or quickly moving up the ranks of his firehouse, Kevin is made to work hard, always push the envelope, and excel at whatever he puts his mind to.
It's apparent that Kevin could not be more excited to raise funds to help find a cure for those who may not have been as lucky as himself. Going from spending months in the hospital, to captaining his own Stairclimb team, he's keeping a positive outlook on what's to come.
"Now when I wake up in the morning I'm just really appreciative," Kevin said. "When I open my eyes it's just like, alright, I'm here, I'm happy, let's do this."
And it's as simple as that.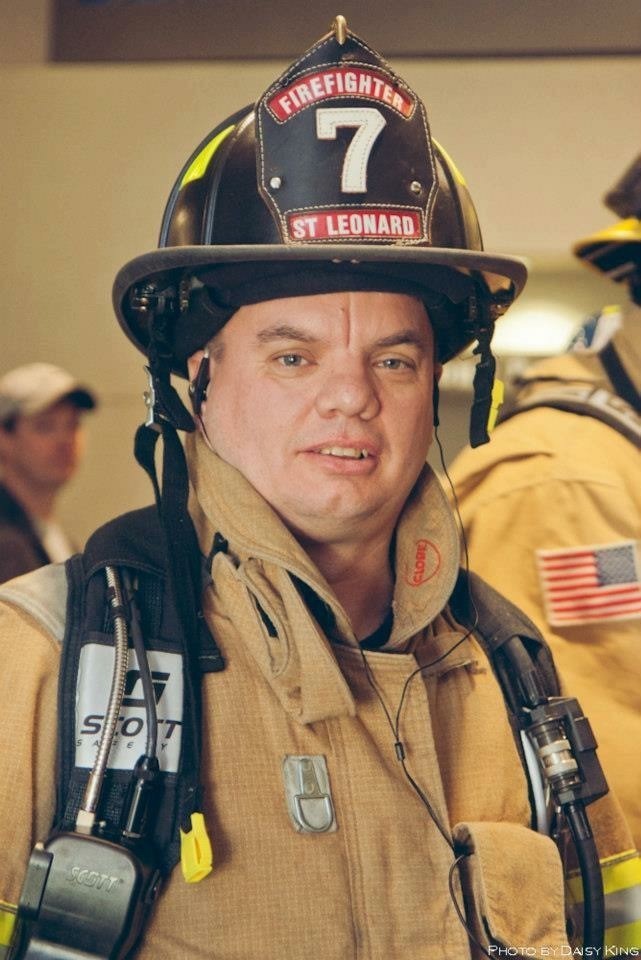 Chris Sleeper, St. Leonard Fire Department
In order to avoid serious complications with surgery, patients are instructed to avoid eating before undergoing a procedure. But what happens if you forget this rule and eat breakfast the morning you're scheduled to go under the knife? Just ask Chris Sleeper, captain of the St. Leonard Fire Department team. Luckily in his case, no complications occurred, but that's because for his surgery he simply opted out of having anesthesia altogether and decided to bear through the pain. Postponing a surgery just for some glorified painkillers simply isn't his style.
It was that morning when doctors cut a two-inch incision in Chris's neck, inserted a dialysis tube in order to begin separating his blood cells, ended up removingtwo freezer bags worth of white blood cells from his body, and sewed him back up all without numbing. This was just the beginning of a journey in battling his own blood, as Chris had recently been diagnosed with Chronic Myeloid Leukemia.
This procedure was the first of a series of blood transfusions, chemo pills and being in and out of the hospital as his white blood cell count would fluctuate. Chris even spent one Christmas Eve in the hospital receiving a blood transfusion.
Over a large part of the course of his treatment, Chris was required to wear gloves and a face mask in order to minimize contact with external germs. He hadbecome neutropenic, meaning he was essentially left without an immune system and was extremely susceptible to additional illnesses. While Chris is currently in a stable condition, if it weren't for his daily chemotherapy pill he would be at serious risk for a relapse and having his blood cells wreck havoc on his body once again.
When he first found out he had cancer, Chris wasn't thinking of himself. He immediately worried about what his four kids would do without him if he were to pass away.
"The hardest part is not knowing whether or not he was going to live or die," Chris's wife, Tina Sleeper, said. "It was really tough not being able to havethe kids even touch him at times."
For Tina, Chris is so much more than just a husband and father. When he isn't spending time raising his family or working at the firehouse, he stays busy driving an 18-wheeler for Safeway, and constantly remains positive and dedicated. This attitude even persisted when, in a shocking twist, Tina herself was diagnosed with colon cancer in 2011.
Thankfully, she is now five years clean, and says that, "Chris was the backbone of our family for the six months he had to watch me go through surgery andchemo. He's just a fighter, there isn't another word for it. If he saw someone on the side of the road he would stop to help them no questions asked. He's just that type of guy."
To his family and those around him, he is a pillar of strength, perseverance, and love. He never lets his disease take away from the value of his life and isdescribed as having an absolute heart of gold. Whether it's a good day or a bad day, he has always pushed forward despite side effects and a discouraging diagnosis. More than ever, he is strongly invested in the mission of the Scott Firefighter Stairclimb.
As a participant since 2011, he is amazed at the camaraderie he is able to experience and witness on event day, and is truly moved by the collective giving spirit of all those involved. In fact for this year's Stairclimb, Chris is climbing in honor of a fellow St. Leonard firefighter who recently began treatment for AML.
Ultimately, Chris is thankful. "If people didn't raise all the funds that they do for LLS, then the medicine I take probably wouldn't be available and I wouldn't even be here," Sleeper said. "Just don't take your life for granted because one little thing can take you out. Give your kids an extra hug today."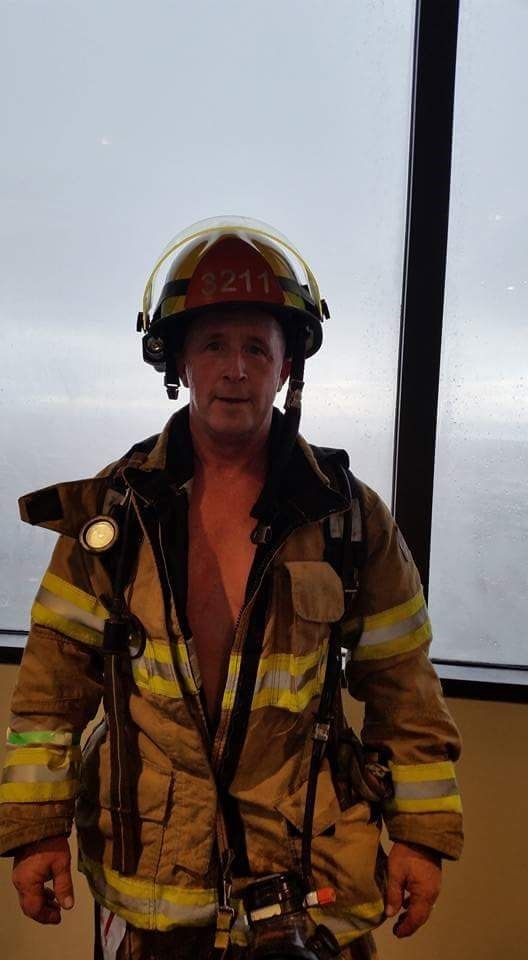 Tim Vanleeuwen, Kinglsey Field Fire Department
While mountain biking in Utah back in September 2016, Tim Vanleeuwen ended up crashing his bike and having to make a trip to the hospital for 10 stitches. After he was sent back to work at the Kingsley Field Fire Department in Oregon, he was soon experiencing double vision that he thought was related to the crash.
Upon returning to the ER to determine the cause, doctors told Tim he had a brain tumor and would need surgery to remove it. It wasn't until after he endured this procedure and more tests were ran in October that it was shockingly revealed he actually had blood cancer. Multiple myeloma to be exact, and was started on radiation this past December.
He admits it took a couple months for him to digest what was happening. At first, he didn't even believe the doctor when he found out his diagnosis. But this disbelief eventually turned into a sense of determination to always have a set plan in place for a worst case scenario.
As a father of two 17-year-old twin boys and a 22-year-old daughter, Tim is a family man who has now truly learned the importance of preparing for the worst, but also hoping for the best.
Suddenly minute details like making sure his wife had the code to the safe in their home in case he wouldn't be around any longer became paramount. His biggest piece of advice? If you're healthy now, make sure to have your affairs in order so you don't leave your family hanging.
His department has even taken initiative to put together an informational packet to make sure these types of details are compiled in one place in case there is a death in the line of duty. For Tim and his fellow firefighters, first and foremost it's about ensuring that everyone is taken care of.
But this goes both ways, and he admits that as someone who is accustomed to being the one to provide assistance to others, it can be strange and uncomfortable to now be the one getting help from other people. In order to keep on top of his treatment sessions including procedures like a bone marrow transplant, Tim often has to commute to the Oregon Health and Science University, meaning he's had to cut his work schedule down to only one rotation at the firehouse. For a man who has wanted to be a firefighter since he was a little boy, this has undoubtedly been a tough transition.
"It's been pretty awful not being able to fully do my job as a firefighter," Tim said.
While growing up, he used to play firefighter with his cousin, started volunteering for real in 1996, got hired full-time eight years ago, and has now spent the past 20 in the fire service fully dedicated to his work. For him, being a firefighter means finding a balance between the undeniable adrenaline of being a first responder, but also the giving nature of this line of work.
His generous and empathetic spirit doesn't stop at fighting fires and saving lives. Tim and his wife have jointly coached a Special Olympics softball team for the past six years. He works as a coach on a few nights a week for 10 weeks at time, and then takes his team to compete at regional and state levels. After years of watching his softball stars grow, what he loves most is the unspoiled camaraderie the players exude. He says there's never any animosity between players. Instead, it's all about helping each other up when they fall down, and lots and lots of high-fiving.
While he appreciates the lack of competition from his softball team participants, he can't deny that competition is what he loves about the Scott Firefighter Stairclimb. He first joined the event in 2016, because after seeing other men in his department participate, he figured he needed to get in on the climbing before he got too old. He's excited to return in 2017 to join in on the atmosphere of brotherhood and bonding, which he calls a phenomenal experience. In fact, he's proud to say that last year he beat out a 21-year-old firefighter in his probationary period from his department by nine seconds. Looks like Tim isn't so old after all.
While his future isn't entirely certain, and there may be a possibility of a stem cell transplant to come, for now Tim is ready to fundraise, to climb, and to be the firefighter that he's always been meant to be.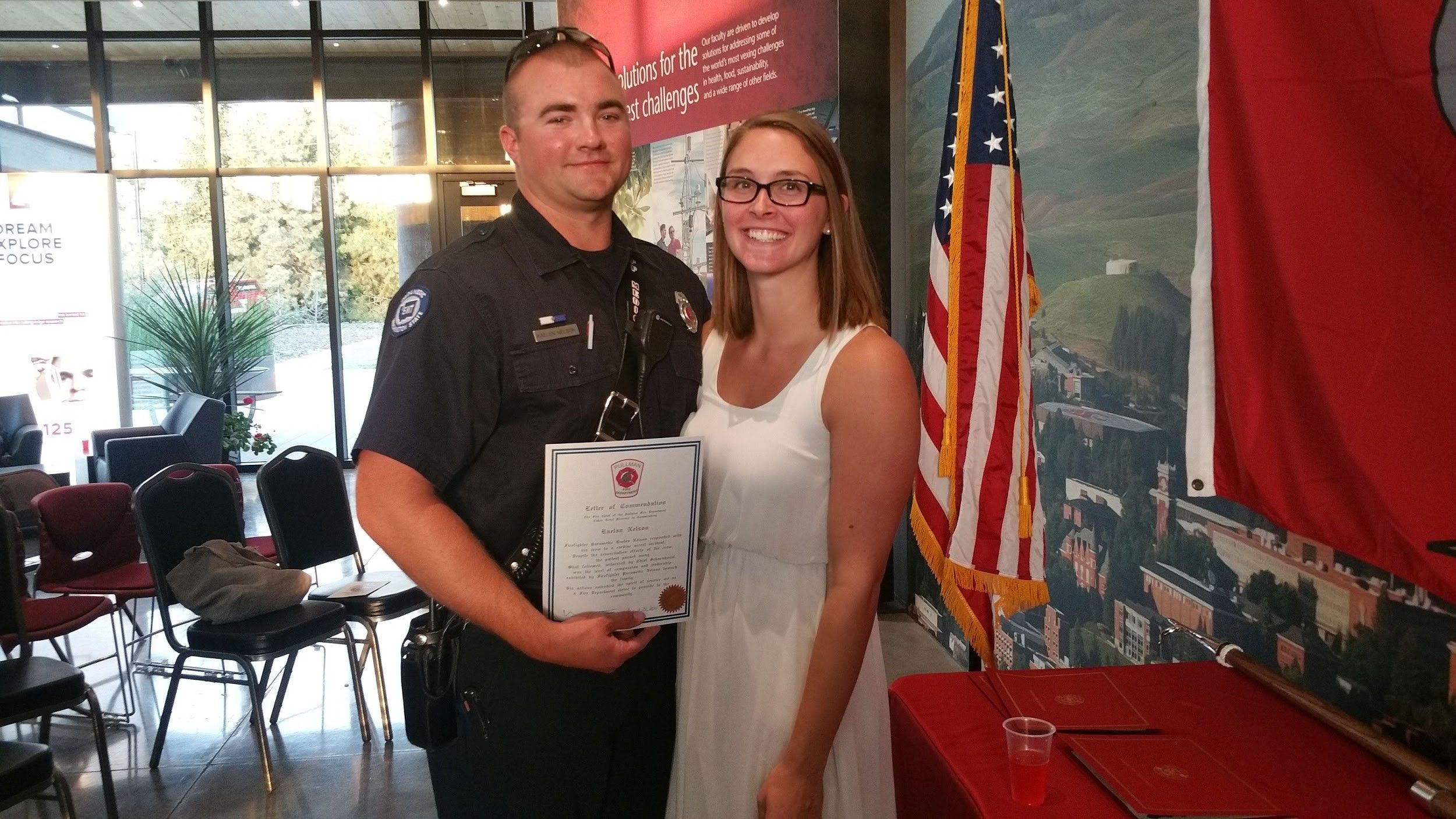 Kaelan Nelson, Kittitas Valley Fire Department
Kaelan Nelson is no stranger to the Leukemia & Lymphoma Society. As a child growing up on a farm in Ellensburg, Kaelan was a Team in Training honor patient for over a decade. His family became a powerhouse group of fundraisers who were strongly dedicated to the mission of LLS. He says they've raised hundreds of thousands of dollars over the years.
This is all because on May 28, 1988 when Kaelan was almost seven years old, he was diagnosed with B-Cell Acute Lymphoblastic Leukemia. His lymph nodes had begun to swell moving from the size of golf balls until they were the size of tennis balls. Even though he was just a kid, Kaelan clearly remembers the image of a bunch of white doctor's coats surrounding him as they drew blood and conducted examinations to find out what was wrong.
For Kaelan's mother, finding out that her young son was being diagnosed with cancer was so shocking that she actually fainted upon hearing the news. It was a doctor that had to explain to Kaelan what this complicated new world meant. He says a nurse used the analogy that his body was like a garden that needed to be rid of its weeds.
Even for an adult, a cancer diagnosis can be difficult to grasp. But Kaelan soon became very familiar with the ins and outs of treatment as he began what turned out to be eight and a half years of chemotherapy.
Suddenly every Friday meant a spinal tap. And for awhile, two weeks out of every month meant daily chemo shots into his calf muscles. At one point he was even taking up to 14 different medications a day. He says he's happy to know that with advances in treatment options since then, many cancer patients don't have to endure nearly as many difficulties as he experienced.
Throughout his treatment, Kaelan's parents decided on pushing forward with the most aggressive forms of chemo possible, as they knew that the cancer running through his veins was just as fierce. They wanted to make sure they were doing all they could to ensure he would live a long life, even if that meant pushing him to his limits. He admits there were a few times that he did indeed feel he broke down, but then he "got right back on the train." Kaelan received his last chemo treatment on June 22, 2006, and after passing the five-year threshold of no detectable cancerous cells, he is considered cured.
For Kaelan, the hardest part of having cancer as a kid wasn't the endless painful procedures and hospital life. It was the good friends he made in the cancer ward who ended up losing their battles.
"You're constantly around these people and suddenly it's like 'where did Brandon go?'" Kaelan said. "I lost several friends over the years, some who died even after they were considered in remission or after they were cured."
Although Kaelan is now only 25, he's gained enough wisdom to last him a lifetime. He knows that it's important to treat each day as a blessing because anyone's life can drastically change in a matter of minutes or even seconds. Whether he's fighting fires or saving lives as a paramedic, this lesson rings true in his work life as well.
"Believe me, there are people going through a whole lot worse than you, and you never know, tomorrow could change everything," Kaelan says.
He first became a firefighter at the age of 18. Spurred on by an eighth grade career day project, Kaelan went on a ride-along with some firefighters and paramedics who were TNT participants.
"It was 24-hours of pure awesome," Kaelan said. "Since that moment I was absolutely hooked."
He feels truly honored to now be working as a firefighter giving back to the community that once supported him so greatly. People always come first for Kaelan, and he couldn't ask for a better job that simply lets him protect and serve.
Those in his firehouse mean a great deal to him as well, as he feels a deep sense of brotherhood and sisterhood toward them all. When you sweat together, cry together, lead together, and all work for the same goal, it's only natural to alway have each other's backs.
His giving-nature extends far beyond his colleagues. He even recently won an award for being compassionate in the line of duty for the way he treated a family who had lost of loved one, according to Brittany Rumps, Kaelan's girlfriend.
"I can see that cancer has shaped him into a strong and compassionate individual," Brittany said. "He goes to work every day willing to help people and risk his life for theirs' which I think really shows his true character."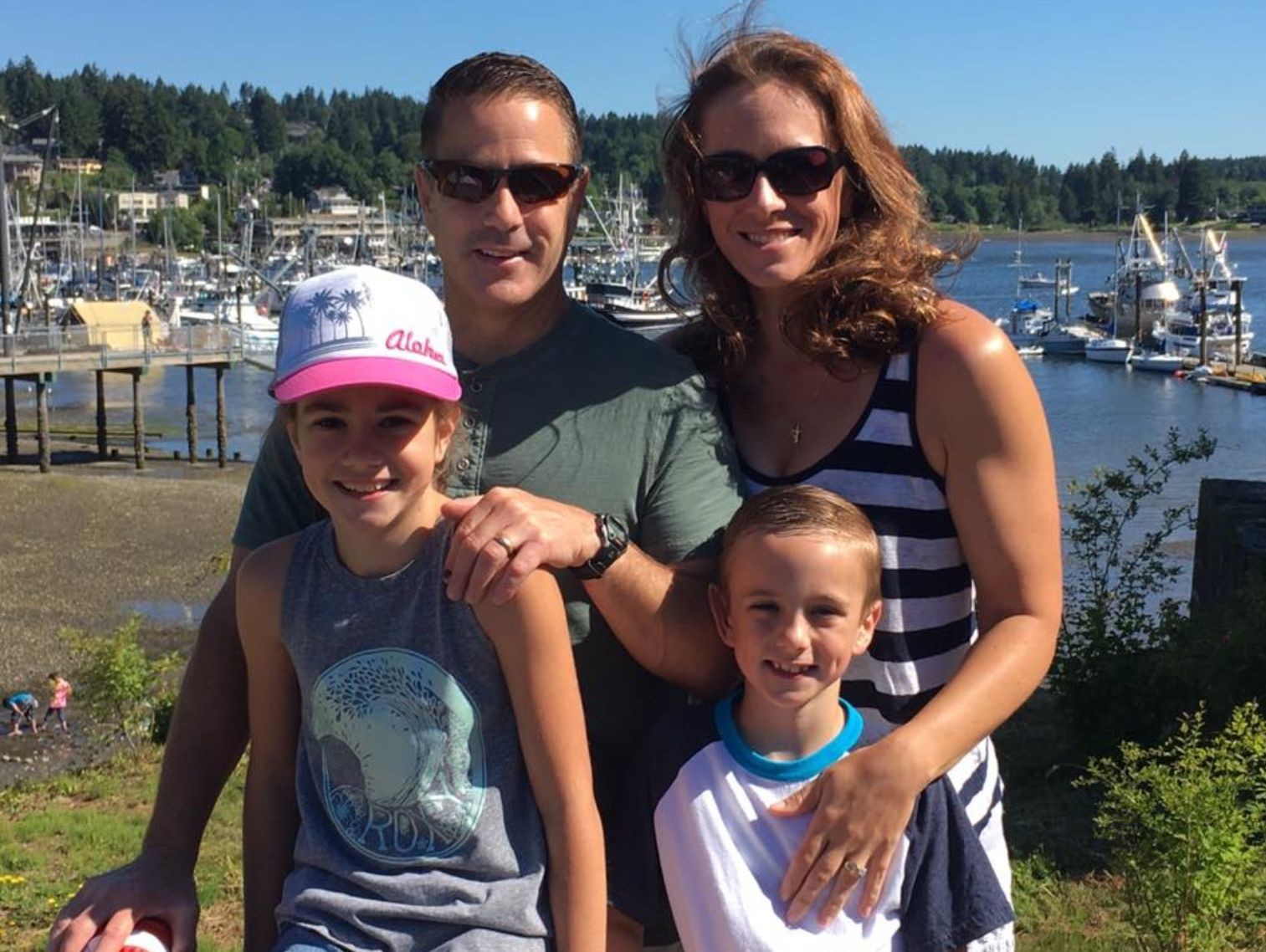 Brian Ferrier, Central Pierce Fire and Rescue
Just over three and a half years ago, Brian Ferrier of Central Pierce Fire & Rescue noticed something strange was happening to him. Every time he tried to go for a run he wasn't able to make it more than half a mile without becoming extremely fatigued. After going to the doctor for a blood draw, it was discovered that his blood platelet count was in the 500,000 range, meaning it was extremely high. In a shocking twist, doctors soon diagnosed Brian with Chronic Myeloid Leukemia.
In order to begin his full regimen of medication, his white blood cell count first needed to be brought down to a more manageable level. While his doctor was hopeful this would take just a couple months, it ended up taking over two and half years to get his levels back to where doctors wanted them to be.
While he's officially (and thankfully) considered in remission, Brian is told he will still have to take medications for the rest of his life. It's the daily chemo pills that hold his disease in check.
Although remission can seem like a breeze, Brian still experiences harsh side effects from the chemo. He often has extreme nausea, bone pain, and estimates he now only has about ⅓ of his normal energy levels. These daily symptoms are typically the most intense for the first three hours after he takes his morning medication, but despite this inconvenience, he doesn't let this stop him from going about his days like normal.
He knows that as a leader in the fire service it's important to instill this type of attitude in all new departmental hires and has done just that over the past 19 years. He's become a pro at taking a negative situation and flipping it on its head.
"Everyone gets dealt with some bad things in life and obviously as a firefighter and paramedic I see this type of stuff every day," Brian said. "I took cancer not as a detriment to my life, but instead as a positive that I could learn from and pass these lessons on."
Brian is optimistic, and strives to be a positive example for other cancer patients. For those going through a similar experience, he wants them to know that researchers are constantly coming out with new treatments and cures, and it is so deeply important to simply never give up.
Doctors aren't exactly sure why Brian got CML, but he strongly suspects his cancer got its start about 20 years ago during the beginning of his firefighter career. When going into burning buildings Brian and his fellow firefighters didn't always take the safest respiratory precautions that are nowadays much more regularly enforced.
He notes that his captain and department are huge advocates for those in the fire service to always use proper BPE and make sure everyone is appropriately masked up and thorough about cleaning their bunker gear after risky exposures.
He's extremely grateful that his job has allowed him ample opportunity to raise his kids ― an eight-year-old son and 11-year-old daughter. Since his wife works as a delivery nurse, they both have careers that revolve around working in shifts. This means he's been able to spend just as much time raising his children as his wife has, and still strives to spend as much time with them as possible.
It's pretty obvious that for Brian, family is always first. He's never spent much time dwelling on trying to figure out why cancer had to happen to him, or what could have been done differently. It's always just been about living for his family while stamping out the woe-is-me attitude.
For a guy who has cancer, his inclination towards the silver lining is truly humbling. He states, "It's been a long battle but I have no complaints. I'm here and pretty healthy."
It's easy to hear the joy in his voice when he talks about watching his children grow up and excel at the things they love. Whether he's cheering them on in skiing, swimming, basketball and more, for him being a busy parent is truly a labor of love.
"Just knowing there was potential of me not being around made every moment that much more precious," Kevin said. "Cancer has basically made my life more valuable every single day."
That's not to say he hasn't always made the most of his life, as he's the giving type of guy. Brian has always been inclined to help others. When he was a teeneager he worked as lifeguard, and has been a paramedic for the past 23 years. His favorite part about being a firefighter is the medical aspect because it means being able to give back to those who need it most. For him being a firefighter is quite the opposite of acting as a status symbol or about bolstering his ego.
The Stairclimb means a great deal to Brian, as he says some of the funds raised in previous Stairclimbs have gone directly to research at the Oregon Health Science University which has helped save his life. His department had already been involved for many years by the time Brian was diagnosed. So when he found out he had a blood cancer, suddenly he ended up being somewhat of a "poster child" for the cause and figured there was no way he couldn't become a participant himself.
He admits that without fail, the climbing itself is miserable. Hot, painful, "makes you want to die." But every time he makes it to the top of the Columbia Center this feeling disappears as intense elation and sense of accomplishment takes over. He always comes out of the experience eagerly anticipating next year's event. He's again ready to tackle the tower for his fourth year climbing.
"I'm blessed that I have a type of leukemia that is treatable," Brian said. "There are far less fortunate people that don't end up making it and I should be able to live a long life with this disease. It's not going to stop me from doing anything in my life."
There's no doubt that's a fact.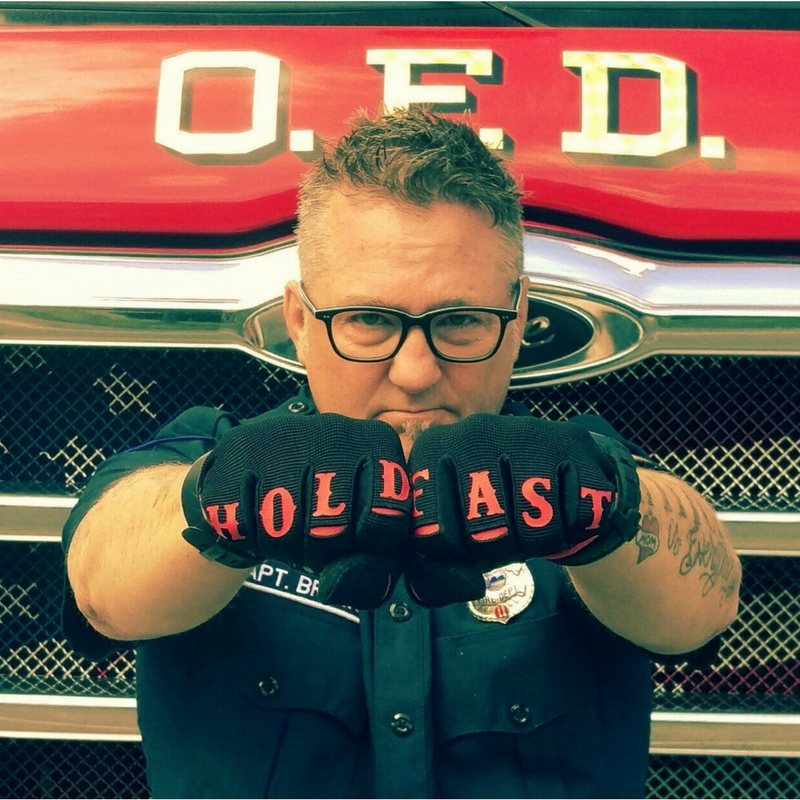 Jim Brown, Olympia Fire Department
Jim Brown of the Olympia Fire Department in Washington state is king of living a full life.
Not only is he a veteran firefighter of 23 years, a captain, father of three, husband, avid cyclist, and skier, he's also a stage 4 lung cancer patient.
But you wouldn't know it just by looking at him. Or for that matter, chatting with him either. In fact, his phone's voicemail will tell you that he's busy out "living the dream." It's not often that you find someone who is this steadfast in his enthusiasm for life.
And he's full of mottos to prove it. You'll even find one tattooed across his knuckles, as well as the bodies of 11 other people (including Jim's mom) who have committed to his slogan of holding fast in permanent ink. His tattoo artist did all of these "hold fast" tattoos for free in honor of Jim's spirit and his extensive connection to his community.
He is well aware of how crucial community really can be. He speaks of the immense acts of generosity and friendship he's experienced while going through treatment, and continues to feel on a daily basis. For instance, while he was away on vacation with his family, members of Olympia Fire conducted a surprise remodel of parts of his home, while many others pitched in to help his family cover large medical expenses, all entirely unprompted. He credits this protective and giving nature of those around him as "a product of a life well-lived." To Jim, this means always trying to push positive actions and intentions which naturally builds reciprocal relationships.
"I didn't know how much love was in the world before I got cancer," Jim said. "It has been absolutely mind boggling the way people came out of the woodwork to show their support for me."

He says that his motto "hold fast" has become a way for the community to demonstrate to him that they are behind him no matter what. Jim began using the saying after hearing it time and time again from his father, who always was a lung cancer patient who eventually passed away from the disease. Jim's father was a Navy sailor who he says truly understood what it meant to persevere through the toughest of times and to stay strong no matter what.
This mindset came in handy when Jim first fell ill. What started as a nagging cough that he thought to be bronchitis, horrifically turned out to be stage 4 metastatic mucinous adenocarcinoma in his lungs. For a guy who never smoked tobacco, getting terminal stage lung cancer was beyond shocking. His doctor told him his disease is considered incurable and that it is often fatal. It was on May 6, 2015 that Jim received this terrifying news in a phone call that absolutely rocked his world.
"My family was the first thing that went through my mind," Jim said. "That was really the crusher, thinking about my three daughters. I always thought that if I were to die in the line of duty it would be from a serious injury or fire, not from cancer. But if you have lungs you can get lung cancer."
Being given an initial diagnosis of three-six months left to live put Jim in the habit of only looking ahead six-weeks at a time til he reached his next scheduled CAT scan. Living in the shadow of a potentially looming death sentence was tough to overcome, but his daughters aged 10, 12, and 17 years old, along with his wife, are undoubtedly an inspiration that he continues to learn and draw motivation from on a daily basis.
Jim soon filed a claim under Washington State legislation indicating that his cancer is a presumptive illness as a result of his occupational experiences. Luckily, Jim has been shown "immense support" from the city manager and his own department in becoming officially service protected. This means he has been able to receive financial aid from the City of Olympia for medical expenses related to his course of treatment. Although his experiences with legislative claim has been largely smooth, he knows this is not the case for all those who end up in a similar position. He acknowledges that there needs to be a continuation of a cultural change taking place across the fire service that ensures all of its brothers and sisters are properly taken care of.
At this point, Jim has come to terms with being diagnosed. His situation is relatively unique, in that he knows the basic cause of his cancer. Unlike many others who can't point to frequent exposure to carcinogens from their jobs, Jim isn't left asking the tough question of "why me?" Instead he has learned to ask "what's next?" and keep his sights set on moving forward. As someone whose job it is to help the injured and witness terrible fires, Jim knows that awful, senseless things happen to good people all the time, and this time around it just happened to be himself that took the hit.
"Being firefighters we're always the bearer of bad news, sometimes on the worst days of people's lives," Lt. Russell Herman, team captain of the Olympia Stairclimb team said. "I can't even imagine how it felt for Jim to have the tides turned on him like that. But he's been so very humble and open about the whole experience."
For a man with a fair amount of pride, Jim says it was definitely tough to ask for help and emotional support.
While Jim will never be able to be considered in remission, his disease is now stabilized since there has been an 80-90% reduction in the size of cancerous growths. His lung cancer had metastasized to his bones and lymph nodes, but recent CT scans show his lymph nodes looking normal. While has much improved, it's been a tough road to get here. Jim has had to endure 27 and counting rounds of chemo. He's an optimist about his long term outcome though, and trusts his doctor when he says that there have been more advances in lung cancer treatments in the past four years than the past four decades put together.
He's now made it a serious focus in his career to help break the prevalent stigma of having lung cancer and make sure that those in his department are well aware of the risks associated with this occupation. One of his priorities is running a carcinogen exposure reduction program within his department that teaches the best safety and decontamination procedures for firefighters and their gear. Jim has tried to specifically customize it to be tailored to Olympia's needs, as every department varies in their roles and capacities. His departmental presentations even include his own PET scans and biopsy reports to in an effort to make the material as personal as possible for those involved. It's clear that he has a passion for protecting his own.
Jim is also deeply passionate about living an adventurous life. For instance, he once dipped his feet in the south Puget Sound, hopped on his bike, rode to Paradise inside Mount Rainier National Park, and then within two days of arrival summited the mountain. He simply wanted the satisfaction of saying he went from sea level to over 14,000 ft. in one stretch. Or there's the time he climbed the Columbia Center tower twice in one day because he wasn't satisfied with his initial Stairclimb time. When it comes down to it, Jim says his "soul is fed by doing these types of things," and since his diagnosis every time he is able to accomplish a difficult task or pursue a new adventure it feels as if he's reclaiming his life one piece at a time.
He's determined to keep living his life as normally as possible throughout the rest of his treatment. He even rescheduled an upcoming round of chemo so that it wouldn't interfere with participating in the 2017 Stairclimb. It's important to him that he will have enough recovery days before the event in order to don 50+ pounds of gear alongside 2,000 other firefighters to climb once more through the "hardest 15 minutes of [his] life."
With his current physical condition he is apprehensive of the difficulty that the Stairclimb will present this year, yet certain that with the help of his teammates he can make it to the top once more. While he sometimes pushes his body to its physical and emotional limits, he's steadily learning to accept new boundaries while finding balance in his lifestyle.
Jim's incredibly vivacious attitude has carried him through life, and he's holding fast no matter what comes next. As he puts it, he's not only surviving, he's thriving.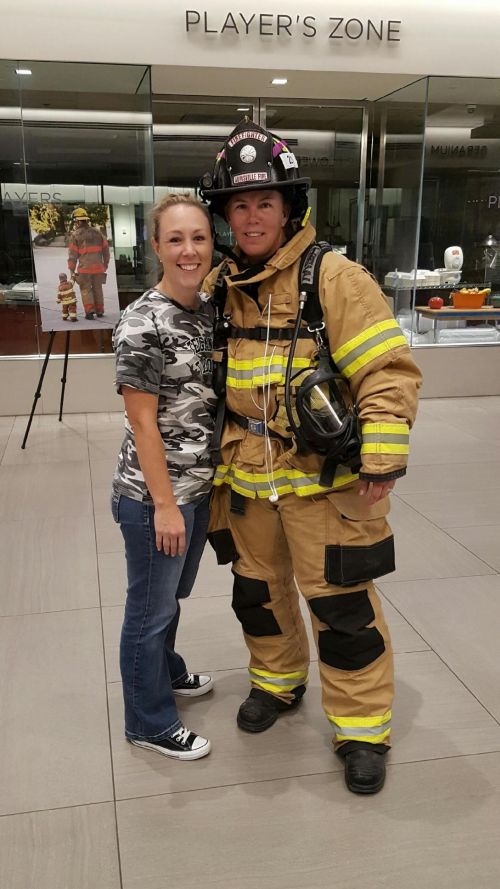 Janet Schaefer, Aumsville Fire
There may be nothing more frustrating than knowing something is wrong, but not being able to pinpoint exactly what it is. Janet Schaefer, was unfortunate enough to experience this feeling for an entire decade. After years and years of having troublesome gastrointestinal symptoms including persistent pain and vomiting, Janet was finally able to find a specialist to give her an answer.
But not necessarily the answer she hoped. On August 3, 2012, Janet was diagnosed with non-Hodgkin's lymphoma. Doctors say she went so many years misdiagnosed as having IBS because the cancer had been hiding out in her small intestine making it difficult to detect.
At first Janet was in shock from hearing the infamous "c-word" applied to herself, but says she can't deny she experienced an additional rush of relief at finally getting a definitive answer for her severe and longstanding symptoms. After spending thousands and thousands of dollars on testing and so much time following mislead treatments, she suddenly felt a "hallelujah" moment of finding something concrete - but of course it had to be cancer. At the time, Janet and her wife Kristine found themselves both crying and laughing at the absurdity of their new situation.
"At some point when you're testing and searching for so long you reach a point where you just need to be able to form a plan," Janet said.
After her first dosage of chemotherapy things quickly took a turn for the worse. Once it was administered, Janet ended up coding and going into severe anaphylactic shock at the hospital. Luckily she was successfully revived, and surprisingly her newly discovered allergy to her chemotherapy didn't end up preventing the treatments from working. After enduring two rounds, a follow-up biopsy in January of 2013 revealed results that were cancer-free.
But clean scans don't always mean life returns to normal. Like many other diseases, cancer comes at heavy physical, mental, and financial costs. Although it's been four year since Janet's treatments ended, she is still feeling the effects in day to day life. She suffers from what is colloquially referred to as "chemo brain" - a common side effect which makes remembering details such as the timeline of events very difficult. Additionally, Janet says her chemo cost $10,000 per treatment, and even with decent medical insurance her family is still slowly chipping away at paying these monumental medical bills.
"Chemo made me so ill that I really couldn't do anything," Janet said. "My spice for life felt like it was gone. It left me feeling hopeless for awhile."
For someone who is as active as Janet, being temporarily physically disabled was one of the toughest parts of her entire experience. As a woman who used to play professional women's football, is currently in a softball league with her wife, and generally adores playing sports with her kids - her 20-year-old son and 16-year-old daughter - being bedridden for extended periods of time was a serious mental trial. But despite Janet's feeling that she was unable to act as her family's "rock" while she was in recovery, it seems that she has bounced back immensely.
"[Cancer] has tenfold made us a better family, made Kristine and I better partners and parents, and made my kids better," Janet said. "The kids got to spend time with their other mom and dad more, and our whole family became stronger because of it in order to lift me up when I needed help."
As an individual who coincidentally worked for seven years in a radiation oncology unit long before she became a firefighter or was diagnosed with cancer herself, learning to be on the other side of caregiving was a bit of a hurdle. Janet clearly has a knack for taking care of others, as she now works as a special education skills trainer who specializes in students with extreme difficulties such as autism and various learning or behavioral issues. She's spent the last ten years working alongside these youths aged 11-20, both in open and lock-up facilities.
Whether at work or in her personal life, she remains optimistic and ultimately thankful. Her diagnosis has reinforced the notion that no matter the challenges life throws at you, there is always a way to make it through to the other side. Having an ambitious and spunky yet humble personality like her's can't hurt either.
Now that she's healthy enough to participate in the Firefighter Stairclimb, she says that she hopes to, "be a motivation and inspiration for someone else to let them know they can make it through chemo and to just never give up."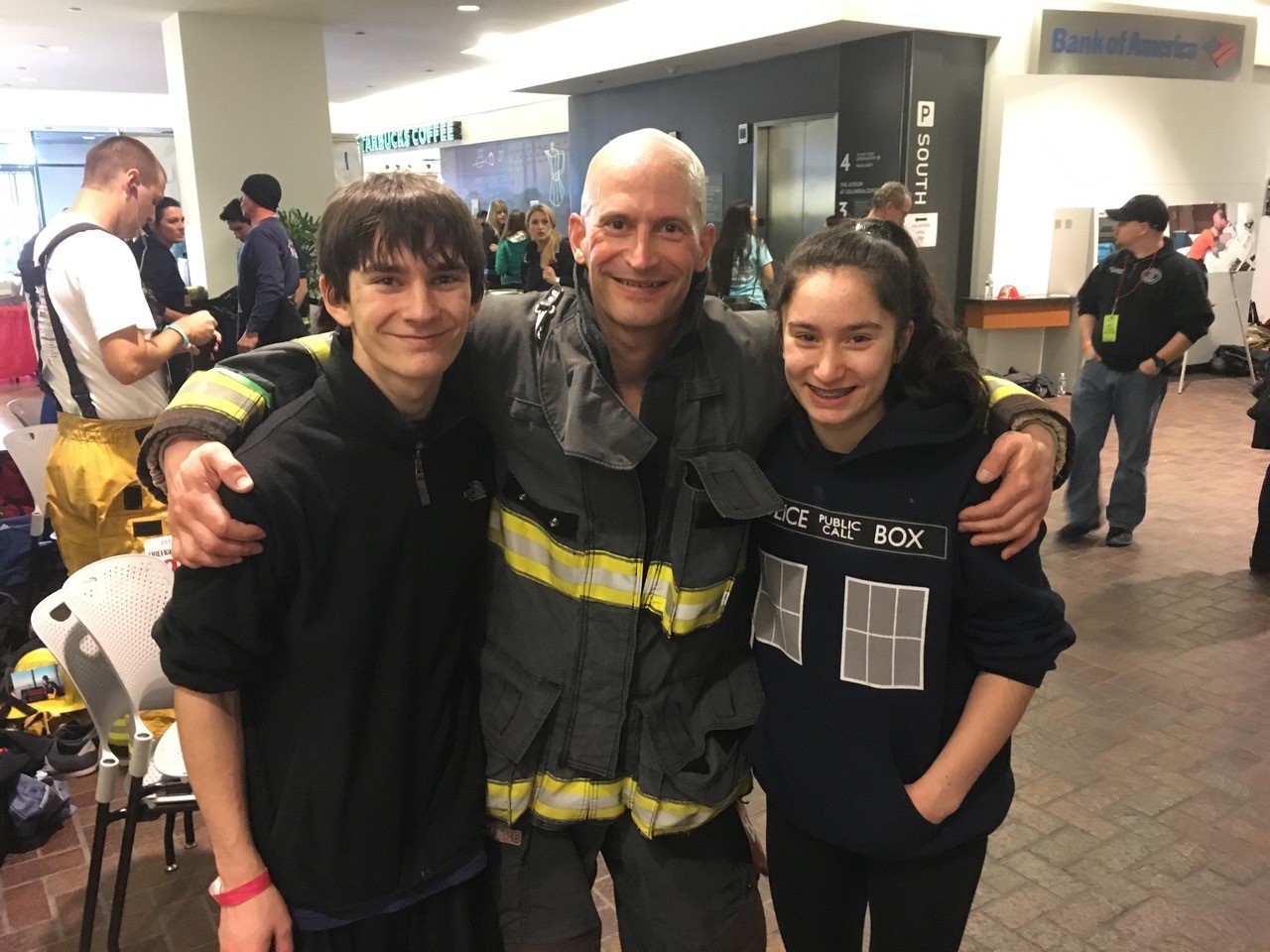 Eric Rickert, Bellevue Fire Department
After racing up 69 flights of stairs in 50+ pounds of gear, it's normal to have some sore muscles. But when Eric Rickert of Bellevue Fire began experiencing several days of moderate abdominal pains beginning the day after the 2015 Stairclimb, it became apparent something more sinister was at work.
Within a few weeks doctors revealed that Eric had 4 Mantle Cell Lymphoma, a rare, chronic form of Non-Hodgkin's B-Cell Lymphoma. As an active man, a father of two teenagers, and someone who had literally just been fundraising to fight against blood cancers, this diagnosis was shocking to say the least. The very disease he had been climbing against was suddenly attacking his own body.
Since then he has undergone countless scans, blood transfusions, six rounds of chemo, and an auto stem cell transplant. Amazingly enough, Eric was able to continue working as a firefighter throughout most of his treatment. This transplant wasn't easy though. As it knocked him down for a solid month after the procedure, which did come with significant medical risks.
But Eric isn't one to shy to the safe side of things, and knew that the right call was to go full force with any treatment that would give him a chance to extend his life. He made it a top priority to stay as active and busy as possible during this time, but also says his stubborn nature helped carry him through to the other side.
Eric's form of cancer is not curable, but it is treatable. Therefore he is currently in remission, and hasn't undergone treatment since his transplant in October of 2015. He credits his successful recovery process to the immense support of his fellow firefighters, neighbors, and family, as well as the top tier team at Seattle Cancer Care Alliance who provided his medical care.
He admits, "It was tough to be a person who provides routine care for others and then to suddenly have to let other people help me," Eric said. "I wanted to keep going and be able to take care of myself but at some point in the process I wasn't, and I had to learn to accept that help from other people."
The accommodating nature of all those who surrounded him throughout his treatment is deeply appreciated. Eric's doctor allowed him to continue work on days when he felt he was able, and take days off when he didn't. Oftentimes his fellow firefighters would offer to cover his shifts, and were generous with letting him complete duty-work when he wasn't healthy enough to be in the line of action.
Eric wasn't always a firefighter, and actually worked as an engineer for a decade before he decided to shift his career. He wanted to pursue a job that allowed for more time with his family, and was centered around providing help for others. He was lucky enough to find a role that over the years allowed him to give back to his community, but also ended up being a crucial support system for himself during tough times. It seems that being a firefighter was the perfect fit.
As a father, his diagnosis has undoubtedly created uncertainty about this ability to be there for his kids in the future. But rather than dwell on the negative, Eric tries to emphasize that life is short and it's a waste of time to dwell on the diagnosis itself. While he admits that cancer did become a pretty big aspect of his personality, he still lives a very active life which he tries to keep unaffected by this disease. You'll often find Eric off backpacking, backcountry skiing, working on remodeling projects around his house or walking his dog around the neighborhood. With his attitude towards life, one might never guess the trials he's had to endure.
"You have to make the most of what you're given," Eric said. "For me this means not wasting time or effort on negative feelings and to not get mad and frustrated with people. This whole experience has really helped my patience and helped me focus on just being happy."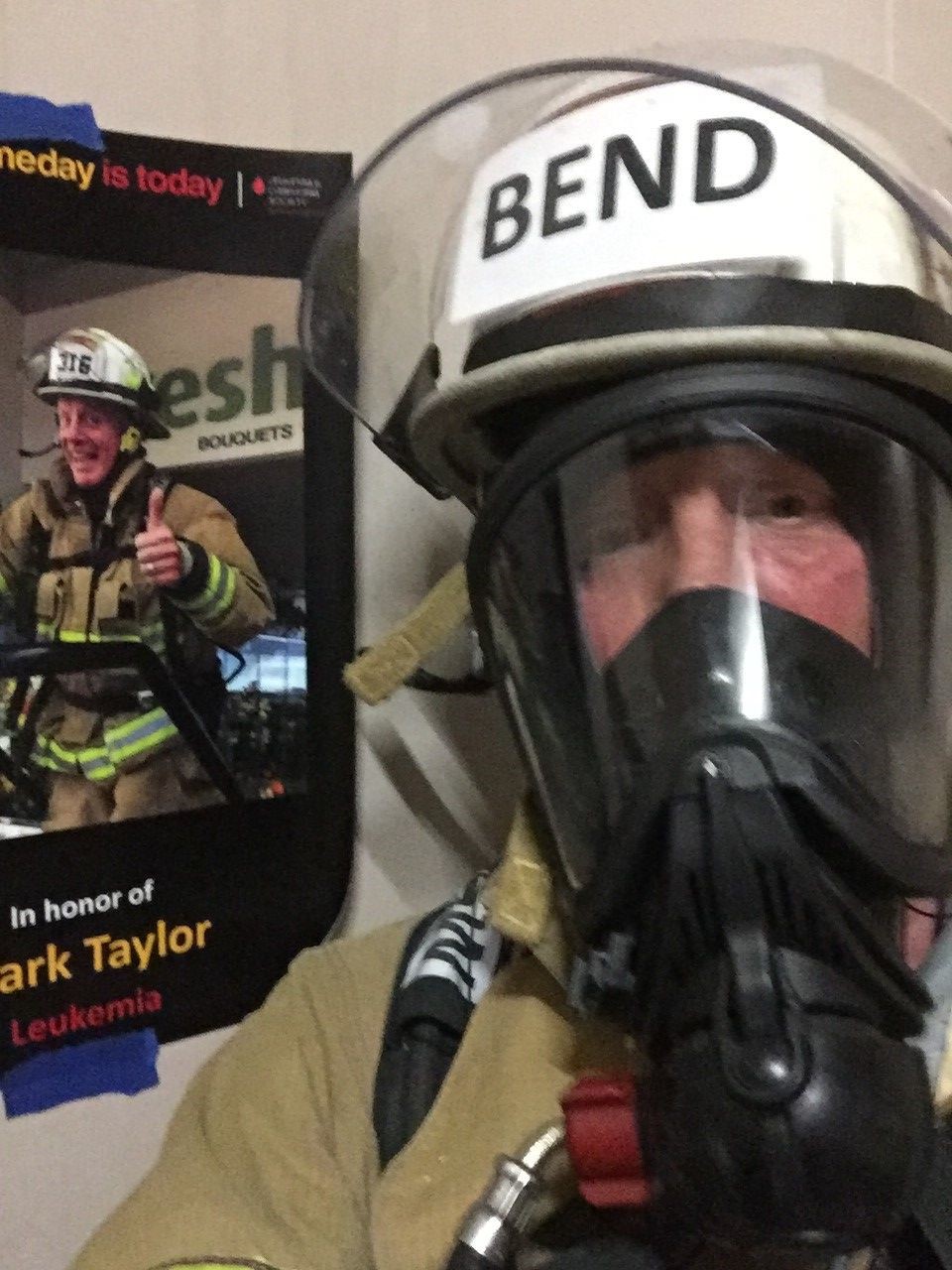 Mark Taylor, retired from Bend Fire & Rescue
With easy access to a plethora of medical websites like Wed M.D., it's become common for people to self-diagnosis based on sometimes arbitrary symptoms. But when Mark Taylor, a now retired firefighter from Bend Fire & Rescue, turned to "Dr.Google" with the concerning results of his annual fire station blood test, he was one of the few people who turned out to be right about his symptoms.
On December 20, 2013, a doctor confirmed what Mark had been fearing to be true, that he had Chronic Lymphocytic Leukemia. His white blood cell count had been running high for a couple years, and in one instance, it was actually double the "high" range of a normal cell count. In his late fifties, he was diagnosed at 15-years younger than the average person who gets CLL, according to his doctor. He is fairly certain that this was due to an environmental cause linked to carcinogenic exposure while working as a firefighter in his earlier years.
It's been predicted that he's about four to five years away from beginning actual treatment because this type of cancer is very slow moving. He been told that unless his cancer acts up erratically, doctors have a pretty good idea of what the next several years should look like for him. But this isn't always a comforting thought. It can sometimes feel like there's a devil on his shoulder lying in wait that just doesn't want to go away.
Last year Mark contracted a serious case of pneumonia since his immune system is much weaker than the average person. He ended up on five different antibiotics within two months alongside a sinus infection and a lung abscess. Trying to maintain his wellness is a definite challenge in his life, but all things considered he still refers to his cancer as "the good type of leukemia."
Mark knows that while a cancer diagnosis can seem like an end-all, what's most important to him is how one moves forward from such a dark experience. He encourages others to try and take charge of their own futures because with resources provided by organizations like the Cancer Support Network and LLS, there is hope for patients whether in treatment or in finding solace in the encouragement of others.
Despite knowing in the back of his head it is likely his line of work that was the catalyst for this disease, Mark couldn't love being a firefighter more. He's always preferred being active, working with his hands, and helping people whenever he can. He's been a career paramedic for 25 years, and says nothing can compare to the feeling of saving someone's life and helping people in need.
"I would say one of the more intimate relationships you can have with someone is to try and help a stranger," Mark said. "They allow you into their life and give you all their trust."
Like many others, he finds the fire service to be like his second family. Even when he's traveled to other countries and visited their fire stations, they welcome him in as if he's one of their own.
Mark knows all about the importance of family, as a father of two grown children - a 30-year-old daughter and a 27-year-old son. And now he's now primarily concerned about being there to watch his grandchildren grow up. Like any good grandparent, he hopes to be around to watch them go off to college, get married, and although his future is uncertain, ultimately just be present in their lives as much as possible. It's obvious that Mark is a humble and caring man. He's often thinking about people other than himself despite his medical situation.
"When I think about kids going through cancer, and what their families go through emotionally and financially, I can't even imagine," Mark said. "It's then pretty easy for me to tell myself to shut up and put one foot in front of the other."
And he literally does just that. He's been a Stairclimb participant for the past decade. He thought the 2016 Stairclimb would be his last, but after reconsidering the feeling of seeing the honorees practically glowing on event day, and experiencing the energy of thousands of fellow firefighters all in one place for an amazing cause, he decided he'd give it one last go.
As a retiree, Mark is living the good life. He recently moved to Spokane with his wife, bought a used trailer, and says it's now difficult to find them at home during the summer. Often off exploring the grand Pacific Northwest, Mark is a true Cascadian through and through. Whether he's fly fishing, road biking, playing the bagpipes or just being a grandpa, Mark isn't letting his diagnosis change the way he enjoys his life.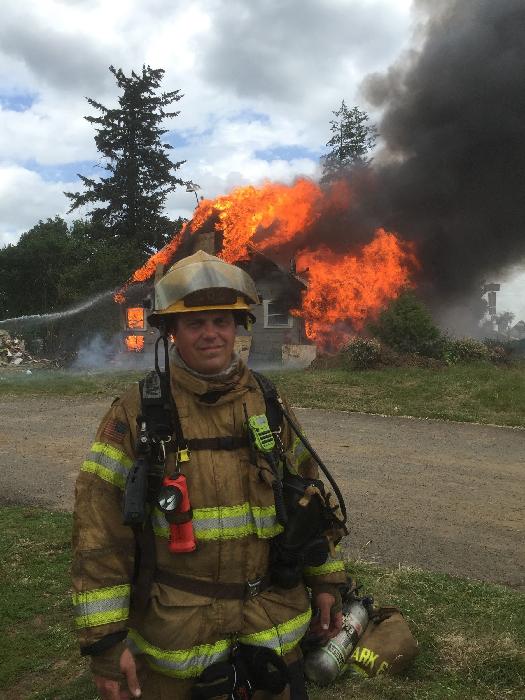 Scott Squires, Clark County Fire District 6
There goes a saying that life should not be a journey to the grave in a well-preserved body. As Scott Squires, team captain for Clark County Fire District 6 in Vancouver, Washington advocates, you should instead try to come in sliding saying 'holy shit what a ride that was!'
As a big believer of a life well-lived, Scott says he's always willing to try something at least twice (as long as he doesn't hurt himself doing it). As a firefighter and paramedic, his life definitely throws some adventurous surprises his way. But then again, not all are welcome.
In June of 2004 while Scott was driving in an ambulance during one of his shifts, he received a phone call from his doctor that changed his life. At the age of 28, he was diagnosed with diffuse large B-cell lymphoma.
Prior to this, Scott had been experiencing unexplained night sweats, weight loss and a persistent cough. He finally decided to visit his doctor, who conducted an x-ray that revealed a suspicious mass. This snowballed into blood draws, CT scans, bone marrow draws, biopsies and surgery in order to remove a portion of his newly discovered tumor on the anterior portion of his chest wall. During one of his rounds of chemotherapy, Scott became hypothermic when his medicine was administered too quickly. He says he spent five hours in the hospital chilled to the bone shaking under a blanket.
Scott's treatment went on in three week intervals, but he was lucky enough to receive good news fairly early on. Doctors told Scott that his tumor had essentially disappeared after chemo, but because he was so young and fit they wanted to deliver a third dose of chemo just to be sure. Strangely enough it wasn't until after this third round that his hair began to fall out. Then came the radiation, of which he did for 21 days straight.
One of the lesser known side effects of treatment turned out to be one of the roughest parts for Scott. He says that no matter the quality or how much sugar or salt was in the food he ate, it all tasted awful. Despite wanting to maintain a normal diet to keep up his strength, he found that most food tasted so wretched that it twisted his stomach into knots. For days after each round of treatment he would be so physically worn out it felt as if he were going through a bout of the flu. As soon as he'd start feeling like himself again, they'd have to hit him again with another round. But undoubtedly, the hardest part of all had to be the emotional toll his cancer took not only on himself, but on his family as well.
"You just have zero control over the emotional side and seeing my wife cry was really tough and tore me up," Scott said. "And then 5 years later, my dad who is a retired firefighter got diagnosed with prostate cancer. I remember thinking that it crushed me more than getting my own diagnosis. Getting that type of news really levels you."
As a father of a four-year-old daughter, Scott says that his role as a parent has put everything into a different perspective for him now. More than anything he wants to watch her grow up, graduate school and walk her down the aisle some day.
Luckily he didn't succumb to an overwhelmingly negative mindset, and says he never truly thought that this disease was going to be the end of him. While going through treatment was inevitably a difficult process - including a pelvic bone marrow draw that was one of the most painful experiences of his life - Scott remained confident that he could make it out healthy and see his cancer to its end.
"I'm not going to let cancer be the thing that dictates my life," Scott said. "It's important to not live in fear and to take every day as it is."
As he continued to heal, in April of 2004, Scott was able to return to work. About seven months later he was officially considered to be in remission. His monthly evaluations became every six months, and were continually reduced until he was in the clear.
"Getting sick certainly made me sympathize more with other people," Scott said. "Maybe my story isn't the same as the people I help but it definitely made me more compassionate to what they're dealing with on their own terms. I might not understand it all the way, but I can say that I get it.
As for the Stairclimb, Scott has been a climber for eight years and counting. What started as just a way to just get together with fellow firefighters buddies from across the state, Scott now feels a deeper sense of attachment to the mission. He hopes to continue raising awareness for this cause, and to always bear through the pain of the climb itself if it means helping others.
During the 2016 event as he made it to the observation deck, he says the meet and greet with the children cancer patients and survivors was hands down his favorite part.
"If nothing else it's for the little guys," he said. "Getting to take a photo with a firefighter just brightened their day. It's all about paying it forward and looking at the bigger picture of the impact of your actions."
Tim, Snohomish County Firefighter
The most pressing issues in many 16 year olds' lives only amount to getting their driver's license or finding a date to their school's homecoming dance. Teenagers often think of themselves as invincible.
Tim, a firefighter out of Snohomish County in Washington, quickly realized this to be false, and found himself with much bigger concerns as a teenager. To put it bluntly, Tim thought he was going to die at age 16.
As a teenager, he first started feeling sick with symptoms that made him think he had mono or the flu until a doctor found a lump in his neck. A cancer diagnosis wasn't even on Tim's radar of possibilities, but doctors at Children's Hospital confirmed they found non-Hodgkin's lymphoma. He then underwent a six month cycle of chemotherapy in which he would spend a week at a time in the hospital with severe and constant side effects such as nausea, vomiting, mouth sores, and extreme weakness. He says that the first week of recovery after every treatment brought him back to those flu-like symptoms with only a couple days in between treatments when he would feel somewhat ok.
Coming to terms with the fact that his young life was suddenly on the brink of being shortened was humbling, but also left Tim feeling powerless.
"Being so out of control of your own fate at the age was difficult to deal with," Tim said. "Despite my parents, friends, and family showing such amazing support and the nurses and doctors being so friendly, I remember laying in my hospital bed at night feeling so utterly alone."
It's safe to say Tim has bounced back from this point. Although a cancer diagnosis as a teenager did indeed throw his life through a loop, at 35 years old he has now been in remission for more years than the age of his initial diagnosis - 19 and counting.
Tim's battle against cancer has taught him many things. He is acutely aware of how fortunate and blessed people are to simply have their health, and how vital it is to maintain a gracious, caring, and generous attitude in life. It's clear his experience with cancer as a teen was influential in maturing his spirit while shaping his decision to enter the fire service. Early on he discovered a well of empathy within himself and desire to provide safety for others in need.
"When someone's life is so turned upside down that all they can do is pick up the phone, dial 911, ask for a stranger's assistance...I want to be the person showing up on their doorstep saying, 'I'm here to help'," Tim said.
He's now a dedicated husband and father of a 1-year-old son. While non-Hodgkin's is thought not to be hereditary, he is still concerned for his son's potential to be predisposed to cancer which makes him all that much more passionate about finding a cure.
This is part of why Tim is such a big advocate of the Firefighter Stairclimb. Aside from the fact that he calls it a "grueling challenge" (no doubt that it is), he says, "The fact that so many people willfully subject themselves to such a difficult endeavor just to raise awareness and funds for cancer research is a testimony to the inherent goodness within us."
For him, on the day of the event it doesn't feel as if he's surrounded by mostly strangers, but instead thousands of friends, if not family.
Dave Cisar, Applegate Valley Fire Department
For those that have never experienced a brush with cancer, it may be difficult to imagine the feeling of receiving a diagnosis. Or let alone how to deal with the immense repercussions a life altering diagnosis can bring.
Dave Cisar, a volunteer firefighter with the Applegate Valley Fire Department in Grants Pass, Oregon, was one of the many who did indeed end up being diagnosed – twice.
About four years after his initial brush with what turned out to be melanoma, Cisar received a secondary diagnosis that has truly reshaped how he views and tries to live his life.
In early 2016, Cisar discovered a swollen lymph node in his neck. The node did not heal on its own, and remained enlarged for several months. After an eventual visit to the doctor, blood tests revealed elevated lymphocyte levels. A biopsy concluded that the swelling had a root cause - lymphoma. Cancerous cells were also found to be present in Cisar's bone marrow.
He was officially diagnosed with both stage 2 SLL (small lymphocytic lymphoma), as well as stage 1A CLL (chronic lymphocytic leukemia) due to the dual presence of cancerous cells. From here, Cisar received a referral from a fellow firefighter who also had been diagnosed with a similar cancer and contacted a specialist in San Diego, California. He eventually landed with a specialist in Eugene, OR, whom he still sees regularly years later.
Strangely enough, although Cisar is currently a patient, he has not yet undergone any treatment for his type of blood cancer. Doctors have deemed Cisar's status to be in the "wait and worry" period, in which his status is monitored every six months to see if his cancer has spread or his symptoms have intensified.
Because Cisar's lymphoma is considered to be chronic, it is slow growing, and with no known cure. While his current symptoms are relatively minimal - swollen lymph nodes and exhaustion - he will not receive treatment until his symptoms progress further.
"Think of this cancer like a weed," Cisar said. "If I were to begin treatment now, my body would likely get used to the treatment and stop responding. Therefore, doctors are waiting until I get really sick before they begin."
While his physical symptoms haven't yet become severe, this cancer diagnosis has most certainly caused disruption in his day-to-day life. The financial and emotional burden of a cancer diagnosis has taken its toll.
"You just ask yourself, 'How am I going to pay for this?', when you see that the initial visit to get diagnosed can cost $20,000 without insurance, and some treatments are over $100,000," Cisar said. "You ask yourself how am I going to leave my wife without any savings if this doesn't work out? When do I say enough is enough? Am I going to stay local for treatment or pay more to travel? And in general, how do you deal with declining health?"
With all of this weighing on his mind, Cisar admits that he's recognized he has been guilty of taking his life for granted. But it is for certain that this diagnosis has changed the way he intends to continue living by putting intent behind all that he does.
"Cancer is like a dark cloud. It is a storm. But there is a silver lining," Cisar said. "It gives you a chance to face death and make some practical decisions, both emotional and spiritual, to get your life in order. I want to take better advantage of the life I have and use this as a springboard to live my life to the fullest."
With decades worth of dedicated years in the fire service and a motivation to live with newfound purpose, it's no doubt he will.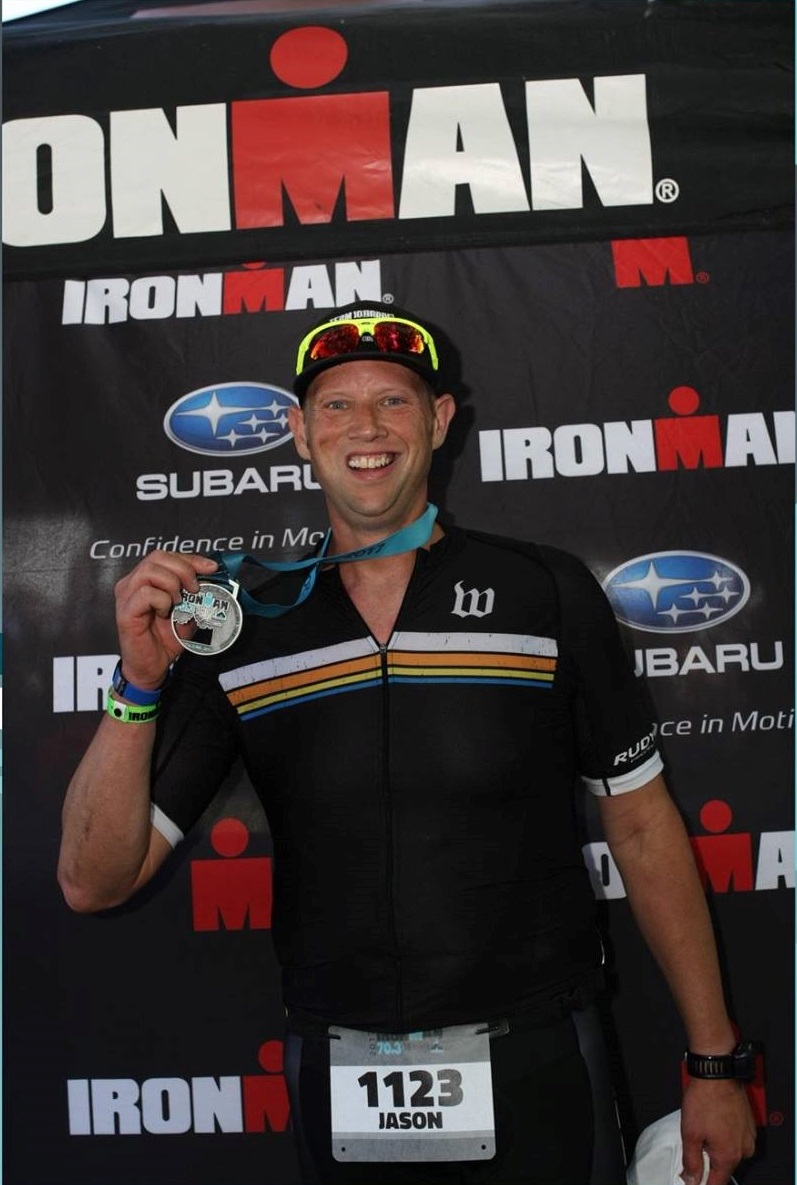 Jason Rose, Mountain Home Air Force Base Fire Department
Back in December 2009, Jason Rose of Mountain Home Air Force Base Fire Department, caught a cold. He noticed a lump in his throat, but chalked it up to being part of his casual sickness that would hopefully soon pass. It wasn't until about a month later that Rose's friends convinced him to get it checked out by a doctor.
As it turned out, a needle biopsy was required, then a cat scan, a bone marrow test, and then a surgery to remove tissue for sampling. All of which confirmed the grim news that Rose was testing positive for nodular sclerosis Hodgkin lymphoma at 36 years old.
After the tissue was sent to the tumor board he was recommended for another surgery to remove the affected area not only his neck, but also affected tissue found in his jaw and chest. It was only a month and a half after this surgery that another was put on the books. Doctors needed to go back into his neck for round three.
This time the surgery was dangerously close to his jugular, which made doctors, and Rose, nervous of possible repercussions. Luckily, the surgery was successful, but that didn't mean Rose was done. He began six rounds of (ABVD) chemotherapy, administered via a port, and then a month straight of daily radiation.
"I went into this with the mindset that this wasn't going to beat me," Rose said. "I wasn't going to go down without a fight. I continued to stay on the rescue truck at my department, and the only time I would take off was when I needed to go in for surgery. I really tried to continue with my life as normal as possible."
Over the course of his treatment he felt his body was in decent shape, but his mind was undoubtedly jumping everywhere. He had very recently moved back from England where he had been working on a military base when he was diagnosed. At the time he wasn't married, didn't have kids, and hadn't started dating again back in the States. This left him feeling alone amidst such a terrifying and surreal diagnosis.
"It was a total hit to my entire psyche and made me rethink my thought process about life," admits Rose. "After being in the service for 20-something years, I was always the one to jump into battle to help people. Whether it was in the military overseas or here on the medical side, I was suddenly the one who had to ask for help and was required to rely on other people."
After losing 100% of his hair, and gaining almost 70 pounds partially due to steroid medication, Rose was able to get through his treatment that ran from approximately March – October 2010.
As he was in the process of getting back in shape post-treatment, Rose began to experience a strange tingling sensation down the back of his hamstrings. After another doctor visit it was unfortunately discovered that Rose's experience with cancer was not finished. This time – only one month after he had finished treatment for lymphoma - he was diagnosed with a secondary cancer.
A mass had been found attached to the nerves in his spinal cord, meaning he had a type of cancer called ependymoma. He needed major back surgery to eradicate the mass as soon as possible.
Thankfully, his surgery was once again successful, and Rose is now considered in remission. While doctors don't have a clear answer of where either cancer originated from, the two diagnoses were not connected. He still goes in for yearly MRI scans that include full brain, lumbar, and thoracic regions to make sure he's all in the clear. With two diagnoses under his belt, he admits he can be afraid that the cancer will come back. But he definitely handles it with humor that helps him get through.
"If I was going to get cancer I might as well have gotten it twice, and then beat them both, right?" Rose jokes. "That's just how I roll."
Now 44 years old, Rose has learned to never take life for granted, because he knows that ultimately, a tomorrow is never promised.
"I used to never take leave because I was afraid I would miss stuff at work, or I would be worrying about the little, stupid things." Rose said. "But now I take leave when I want to, go see family when I want to, and just live every day in a way that I make sure people know I love them."
When he's not at work you'll likely find him out on the trails mountain biking or cycle cross racing. He discovered his newfound love of the sport after making an effort to stay consistently active after his rough treatment regime. He's now even run a half-Iron Man race in Victoria, Canada, and plans to keep running, cycling, and fighting fires for years to come.