In Honor of Patrick Jessee
Patrick is 1 out of 13 current members of the Chicago Fire Department who has been diagnosed with a blood cancer.
"In 2011, while recovering from shoulder surgery related to a duty-injury I had sustained will working as a Firefighter/Paramedic for the Chicago Fire Department, I found a small lump in my abdomen.  Not thinking much more about it, I continued on with my rehab for my shoulder while also studying for the MCATs.  A few weeks later, the pain began in my back and found that I was losing my appetite.  I assumed it was from stress of the MCATs and decided to just push through it.  Eventually, the pain was so intense that I could not sleep at night, and was only getting a few hours of sleep a day only while in the shower.
I proceeded to my medical doctor and began a battery of tests over the next month to try and determine what was wrong.  My blood work was all normal, with no abnormalities whatsoever.  And yet, the small lump persisted. After I was finally able to secure an ultrasound, the radiologist concluded I needed a biopsy as soon as possible. The biopsy turned out to be inconclusive, and a second surgery was then scheduled. It was discovered that the mass in my abdomen was a lymph node that was spiral-wrapped around my iliac artery and nerves, compressing them and growing into the psoas muscle in my back.  The pain finally started to subside after this, but then the real journey began.
I clearly remember the night that my surgeon called me to inform me of the outcome of the surgery.  It was a cool summer evening in Chicago as the sounds of the commuter trains passing under my condo window filled the air. I looked across the granite island in my kitchen at my mother as I heard the surgeon say what we already were suspecting: "It's a type of lymphoma, your oncologist will tell you more."  I eventually found out that my newly diagnosed cancer was a rare, aggressive form of non-Hodgkin's lymphoma that is not typically found in someone my age.
Hearing those words changes your life and re-prioritizes everything that is important. Friends, family, and time become the most important things to you.  Money and material possessions suddenly lose their value as you begin the journey to attempt to save your life.
In doing research on my diagnosis and looking for reputable sources of information, the Leukemia & Lymphoma Society was the first place that I went. What I received was more than what I could have imagined.
When I first called LLS, I was surprised to find a live agent on the phone offering me financial assistance information, treatment information, and people to talk to about my emotions. It was such a welcoming feeling from an organization that I had never even considered before. Over the course of the next six months, I received my treatment for my lymphoma and experienced all the hopes, fears, anxiety, and challenges.  I had been a paramedic for 13 years at that time and had to stop being the person taking care of others and be the person receiving the care instead, a strange juxtaposition of roles. 
Because I didn't know if I was going to survive my treatment, I had to postpone a wedding. Because I didn't know if I would have the physical ability to protect citizens and visitors of Chicago if I did survive, I had to put my career with the Chicago Fire Department on hold.
Since that time, I have felt that it is my responsibility to share my experience with as many people as possible so that they know they are not alone and that what they are feeling and what they are going through is not unusual. I have tried to live a life with much more compassion and purpose. 
LLS has allowed me an opportunity to do this through a variety of ways: fundraising through Light the Night, Team in Training, Man and Woman of the Year, and now the Scott Firefighter Stairclimb. I've also participated in custom GORUCK physical endurance events to raise money for LLS, engaged in patient advocacy through visits at the state level and also nationally at the Day on the Hill in Washington DC, and reaching out to others through support groups and peer support to help them through their time of need.
I don't use the term survivor to describe myself, I use the term fighter.  To me, a survivor is someone who has made it through an event and it is over.  I don't see my cancer experience as being over. Rather, I believe my cancer journey to be a continuous battle that all of us in the Fire service brother and sisterhood are a part of in order to eliminate the possibility of another person being diagnosed."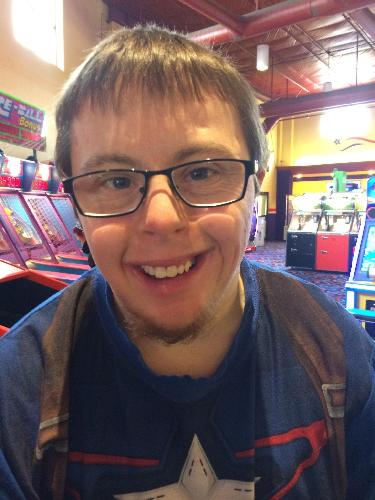 In Honor of Matthew Stone
Told from the perspective of Mathew's mother, Pat Stone
"Too many of us have heard the words "You have cancer." But when you hear those words directed at your child, your world comes to a complete stop and you can't hear anything else. In the Spring and Summer of 2005, our 10-year-old son, Matthew, could only talk about one thing – that his legs hurt. After several doctor appointments and x-rays we were told, "Let's chalk it up to growing pains since Tylenol gives him relief." You might be wondering why a 10-year-old couldn't tell us more – about where it hurts, how much it hurts, when it hurts, or that nothing was actually giving him relief. He just trusted that we were taking care of him. The answer is that Matthew tried to tell us, but simply couldn't. But he tried. He acted out at school, laid around most of the summer, and was just was not his regular happy self. This is because Matthew has Down syndrome with limited communication skills. This of course became part of our struggles as we helped him through his cancer treatments.
One morning in August 2005, Matthew woke up in tears. I went into his room and saw him sitting on the floor, unable to stand because of the immense pain he was in. Without his ability to tell us what hurt, we rushed him to the emergency room. It was August 18, 2005 when we heard those horrific words for the first time; "Your son has cancer – type B acute lymphoblastic leukemia." All we could think was that, no, this can't be possible. Cancer is for adults. But no, it is not, and we were thrown into over 3 years of daily chemo that added up to almost 2,000 doses. The chemo was nearly nonstop, unless he was too sick to handle it on a particular day. We began to learn more than we ever cared to know about cancer, chemo, side effects, and death. We were told that since Matthew had Down syndrome his chances were lower than the typical survival rates for this type of cancer. Despite the biological, chemical and metabolic differences between someone who does have Down syndrome and someone who does not, there is not a separate chemo protocol. This caused Matthew to experience more severe side effects and a greater loss of his antibodies than a standard chemo patient.
Matthew's treatment was hideous to say the least. He got down to only 65 pounds, at which point we almost lost him. He was as pale as his white sheets and began bleeding out his mouth and throughout his GI track. He lost his hair 4 times. He had 12 blood transfusions, 24 spinal taps, 3 bone biopsies, 5 antibody infusions, 4 or 5 ambulance rides and one Air Flight. He also developed a reaction to Methotrexate (a chemo drug) and started having seizures. In addition, he needed physical therapy to counteract his tightened leg muscles, which were a result of the drug Vincristine. All of this was on top of his nearly 2,000 doses of toxic chemotherapy. In November 2008 he finished his treatments. The words, "He is cured!" came in Aug 2012! We love to support LLS in their efforts in research and in finding a cure so that more children survive this terrible disease with far less horrific treatments.
Now, Matthew is 22 and a very active young man. He has a job and volunteers in our community. He loves to help and will gladly have a conversation about his latest interest. He drives his golf cart with the pride of any young man with his first car.